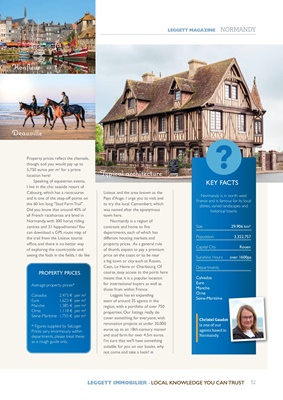 51
LEGGETT IMMOBILIER - LOCAL KNOWLEDGE YOU CAN TRUST
LEGGETT MAGAZINE NORMANDY
Property prices refl ect the clientele,
though, and you would pay up to
5,750 euros per m² for a prime
location here!
Speaking of equestrian events,
I live in the chic seaside resort of
Cabourg, which has a racecourse
and is one of the stop-off points on
the 60 km long "Stud Farm Trail".
Did you know that around 40% of
all French racehorses are bred in
Normandy, with 300 horse riding
centres and 31 hippodromes? You
can download a GPS route map of
the trail from the Lisieux tourist
offi ce, and there is no better way
of exploring the countryside and
seeing the foals in the fi elds. I do like
KEY FACTS
Normandy is in north west
France and is famous for its local
dishes, varied landscapes and
historical towns.
Size 29,906 km²
Population 3,322,757
Capital City Rouen
Sunshine Hours over 1600pa
Departments:
Calvados
Eure
Manche
Orne
Seine-Maritime
Christel Gaudot
is one of our
agents based in
Normandy.
?
Lisieux and the area known as the
Pays d'Auge. I urge you to visit and
to try the local Camembert, which
was named after the eponymous
town here.
Normandy is a region of
contrasts and home to fi ve
departments, each of which has
different housing markets and
property prices. As a general rule
of thumb, expect to pay a premium
price on the coast or to be near
a big town or city such as Rouen,
Caen, Le Havre or Cherbourg. Of
course, easy access to the ports here
means that it is a popular location
for international buyers as well as
those from within France.
Leggett has an expanding
team of around 25 agents in the
region, with a portfolio of over 750
properties. Our listings really do
cover something for everyone, with
renovation projects at under 30,000
euros up to an 18th-century manoir
and stud farm for over 4.5m euros.
I'm sure that we'll have something
suitable for you on our books, why
not come and take a look?
Christel Gaudot
Average property prices*
Calvados 2,473 € per m²
Eure 1,623 € per m²
Manche 1,385 € per m²
Orne 1,118 € per m²
Seine-Maritime 1,755 € per m²
* Figures supplied by SeLoger.
Prices vary enormously within
departments, please treat these
as a rough guide only.
PROPERTY PRICES
Deauville
Honfl eur
Typical architecture