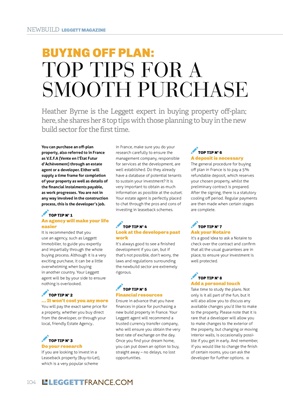 104 LEGGETTFRANCE.COM
NEWBUILD LEGGETT MAGAZINE
Heather Byrne is the Legge" expert in buying property off-plan;
here, she shares her 8 top tips with those planning to buy in the new
build sector for the first time.
in France, make sure you do your
research carefully to ensure the
management company, responsible
for services at the development, are
well established. Do they already
have a database of potential tenants
to sustain your investment? It is
very important to obtain as much
information as possible at the outset.
Your estate agent is perfectly placed
to chat through the pros and cons of
investing in leaseback schemes.
✏TOP TIP N° 4
Look at the developers past
work
It's always good to see a finished
development if you can, but if
that's not possible, don't worry, the
laws and regulations surrounding
the newbuild sector are extremely
rigorous.
✏TOP TIP N° 5
Financial resources
Ensure in advance that you have
finances in place for purchasing a
new build property in France. Your
Leggett agent will recommend a
trusted currency transfer company,
who will ensure you obtain the very
best rate of exchange on the day.
Once you find your dream home,
you can put down an option to buy,
straight away - no delays, no lost
opportunities.
You can purchase an off-plan
property, also referred to in France
as V.E.F.A (Vente en l'État Futur
d'Achèvement) through an estate
agent or a developer. Either will
supply a time frame for completion
of your property as well as details of
the financial instalments payable,
as work progresses. You are not in
any way involved in the construction
process, this is the developer's job.
✏TOP TIP N° 1
An agency will make your life
easier
It is recommended that you
use an agency, such as Leggett
Immobilier, to guide you expertly
and impartially through the whole
buying process. Although it is a very
exciting purchase, it can be a little
overwhelming when buying
in another country. Your Leggett
agent will be by your side to ensure
nothing is overlooked.
✏TOP TIP N° 2
… It won't cost you any more
You will pay the exact same price for
a property, whether you buy direct
from the developer, or through your
local, friendly Estate Agency..
✏TOP TIP N° 3
Do your research
If you are looking to invest in a
Leaseback property (Buy-to-Let),
which is a very popular scheme
BUYING OFF PLAN:
TOP TIPS FOR A
SMOOTH PURCHASE
✏TOP TIP N° 6
A deposit is necessary
The general procedure for buying
off plan in France is to pay a 5%
refundable deposit, which reserves
your chosen property, whilst the
preliminary contract is prepared.
After the signing, there is a statutory
cooling off period. Regular payments
are then made when certain stages
are complete.
✏TOP TIP N° 7
Ask your Notaire
It's a good idea to ask a Notaire to
check over the contract and confirm
that all the usual guarantees are in
place, to ensure your investment is
well protected.
✏TOP TIP N° 8
Add a personal touch
Take time to study the plans. Not
only is it all part of the fun, but it
will also allow you to discuss any
available changes you'd like to make
to the property. Please note that it is
rare that a developer will allow you
to make changes to the exterior of
the property, but changing or moving
interior walls, is occasionally possible if you
get in early. And remember,
if you would like to change the finish
of certain rooms, you can ask the
developer for further options.