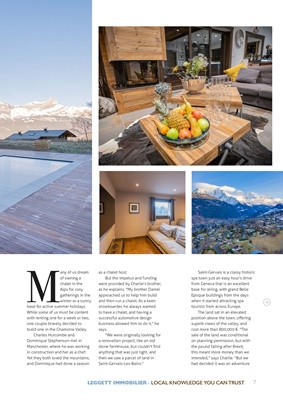 M
any of us dream
of owning a
chalet in the
Alps for cosy
gatherings in the
winter or a sunny
base for active summer holidays.
While some of us must be content
with renting one for a week or two,
one couple bravely decided to
build one in the Chamonix Valley.
Charles Hurcombe and
Dominique Stephenson met in
Manchester, where he was working
in construction and her as a chef.
Yet they both loved the mountains,
and Dominique had done a season
LEGGETT IMMOBILIER - LOCAL KNOWLEDGE YOU CAN TRUST 7
as a chalet host.
But the impetus and funding
were provided by Charlie's brother,
as he explains. "My brother Daniel
approached us to help him build
and then run a chalet. As a keen
snowboarder, he always wanted
to have a chalet, and having a
successful automotive design
business allowed him to do it," he
says.
"We were originally looking for
a renovation project, like an old
stone farmhouse, but couldn't find
anything that was just right, and
then we saw a parcel of land in
Saint-Gervais-Les-Bains."
Saint-Gervais is a classy historic
spa town just an easy hour's drive
from Geneva that is an excellent
base for skiing, with grand Belle
Epoque buildings from the days
when it started attracting spa
tourists from across Europe.
The land sat in an elevated
position above the town, offering
superb views of the valley, and
cost more than 800,000 €. "The
sale of the land was conditional
on planning permission, but with
the pound falling after Brexit,
this meant more money than we
intended," says Charlie. "But we
had decided it was an adventure