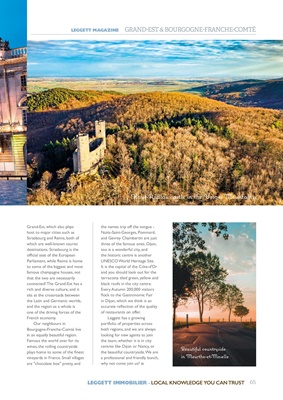 LEGGETT IMMOBILIER - LOCAL KNOWLEDGE YOU CAN TRUST
Grand-Est, which also plays
host to major cities such as
Strasbourg and Reims, both of
which are well-known tourist
destinations. Strasbourg is the
offi cial seat of the European
Parliament, while Reims is home
to some of the biggest and most
famous champagne houses, not
that the two are necessarily
connected! The Grand-Est has a
rich and diverse culture, and it
sits at the crossroads between
the Latin and Germanic worlds,
and the region as a whole is
one of the driving forces of the
French economy.
Our neighbours in
Bourgogne-Franche-Comté live
in an equally beautiful region.
Famous the world over for its
wines, the rolling countryside
plays home to some of the fi nest
vineyards in France. Small villages
are "chocolate box" pretty, and
the names trip off the tongue -
Nuits-Saint-Georges, Pommard,
and Gevrey Chambertin are just
three of the famous ones. Dijon,
too is a wonderful city, and
the historic centre is another
UNESCO World Heritage Site.
It is the capital of the Côte-d'Or
and you should look out for the
terracotta tiled green, yellow and
black roofs in the city centre.
Every Autumn 200,000 visitors
fl ock to the Gastronomic Fair
in Dijon, which we think is an
accurate refl ection of the quality
of restaurants on offer.
Leggett has a growing
portfolio of properties across
both regions, and we are always
looking for new agents to join
the team, whether it is in city
centres like Dijon or Nancy, or
the beautiful countryside. We are
a professional and friendly bunch,
why not come join us?
LEGGETT IMMOBILIER - LOCAL KNOWLEDGE YOU CAN TRUST 65
LEGGETT MAGAZINE GRANDºEST & BOURGOGNEºFRANCHEºCOMTÉ
Haut-Andlau castle in the Vosges Mountains
Beautiful countryside
in Meurthe-et-Moselle