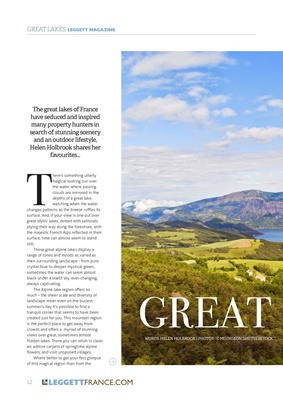 GREAT
The great lakes of France
have seduced and inspired
many property hunters in
search of stunning scenery
and an outdoor lifestyle,
Helen Holbrook shares her
favourites…
WORDS: HELEN HOLBROOK | PHOTOS : C MOINGEON SHUTTERSTOCK
12 LEGGETTFRANCE.COM
GREAT LAKES LEGGETT MAGAZINE
T
here's something utterly
magical looking out over
the water where passing
clouds are mirrored in the
depths of a great lake,
watching when the water
changes patterns as the breeze ruffles its
surface. And, if your view is one out over
great idyllic lakes, dotted with sailboats
plying their way along the foreshore, with
the majestic French Alps reflected in their
surface, time can almost seem to stand
still.
These great alpine lakes display a
range of tones and moods as varied as
their surrounding landscape - from pure
crystal blue to deeper mystical green,
sometimes the water can seem almost
black under a starlit sky, ever-changing,
always captivating.
The Alpine lake region offers so
much - the sheer scale and diversity of
landscape mean even on the busiest
summer's day it's possible to find a
tranquil corner that seems to have been
created just for you. This mountain region
is the perfect place to get away from
crowds and offers a myriad of stunning
views over great, sometimes almost
hidden lakes. There you can relish in clean
air, admire carpets of springtime alpine
flowers, and visit unspoiled villages.
Where better to get your first glimpse
of this magical region than from the