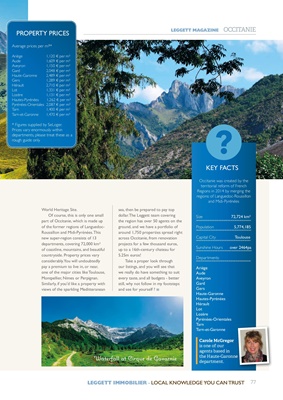 77
LEGGETT IMMOBILIER - LOCAL KNOWLEDGE YOU CAN TRUST
LEGGETT MAGAZINE OCCITANIE
World Heritage Site.
Of course, this is only one small
part of Occitanie, which is made up
of the former regions of LanguedocRoussillon and Midi-Pyrénées.
This
new super-region consists of 13
departments, covering 72,000 km²
of coastline, mountains, and beautiful
countryside. Property prices vary
considerably. You will undoubtedly
pay a premium to live in, or near,
one of the major cities like Toulouse,
Montpellier, Nimes or Perpignan.
Similarly, if you'd like a property with
views of the sparkling Meditteranean
KEY FACTS
Occitanie was created by the
territorial reform of French
Regions in 2014 by merging the
regions: of Languedoc-Roussillon
and Midi-Pyrénées
Size 72,724 km²
Population 5,774,185
Capital City Toulouse
Sunshine Hours over 2464pa
Departments:
Ariège
Aude
Aveyron
Gard
Gers
Haute-Garonne
Hautes-Pyrénées
Hérault
Lot
Lozère
Pyrénées-Orientales
Tarn
Tarn-et-Garonne
Carole McGregor
is one of our
agents based in
the Haute-Garonne
department.
?
sea, then be prepared to pay top
dollar. The Leggett team covering
the region has over 50 agents on the
ground, and we have a portfolio of
around 1,750 properties spread right
across Occitanie, from renovation
projects for a few thousand euros,
up to a 16th-century chateau for
5.25m euros!
Take a proper look through
our listings, and you will see that
we really do have something to suit
every taste, and all budgets - better
still, why not follow in my footsteps
and see for yourself ?
the Haute-Garonne
Average prices per m²*
Ariège 1,120 € per m²
Aude 1,609 € per m²
Aveyron 1,150 € per m²
Gard 2,048 € per m²
Haute-Garonne 2,489 € per m²
Gers 1,289 € per m²
Hérault 2,710 € per m²
Lot 1,331 € per m²
Lozère 1,131 € per m²
Hautes-Pyrénées 1,262 € per m²
Pyrénées-Orientales 2,087 € per m²
Tarn 1,400 € per m²
Tarn-et-Garonne 1,470 € per m²
* Figures supplied by SeLoger.
Prices vary enormously within
departments, please treat these as a
rough guide only.
PROPERTY PRICES
Waterfall at Cirque de Gavarnie