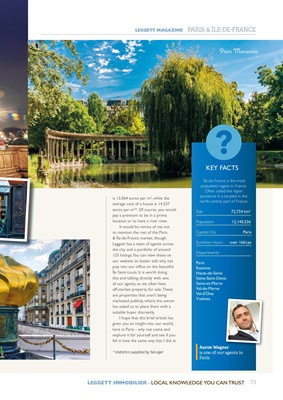 73
LEGGETT MAGAZINE PARIS & ÎLEºDEºFRANCE
KEY FACTS
Île-de-France is the most
populated region in France.
Often called the région
parisienne it is located in the
north-central part of France.
Size 72,724 km²
Population 12,140,526
Capital City Paris
Sunshine Hours over 1661pa
Departments:
Paris
Essonne
Hauts-de-Seine
Seine-Saint-Denis
Seine-et-Marne
Val-de-Marne
Val-d'Oise
Yvelines
Aaron Wagner
is one of our agents in
Paris.?
is 13,064 euros per m², while the
average cost of a house is 14,337
euros per m²*. Of course, you would
pay a premium to be in a prime
location or to have a river view.
It would be remiss of me not
to mention the rest of the Paris
& Île-de-France market, though.
Leggett has a team of agents across
the city and a portfolio of around
125 listings. You can view these on
our website or, better still, why not
pop into our offi ce on the beautiful
Île Saint-Louis. It is worth doing
this and talking directly with one
of our agents, as we often have
off-market property for sale. These
are properties that aren't being
marketed publicly, where the owner
has asked us to place them with a
suitable buyer discreetly.
I hope that this brief article has
given you an insight into our world,
here in Paris - why not come and
explore it for yourself and see if you
fall in love the same way that I did.
* statistics supplied by SeLoger
LEGGETT IMMOBILIER - LOCAL KNOWLEDGE YOU CAN TRUST
Parc Monceau
Aaron Wagner