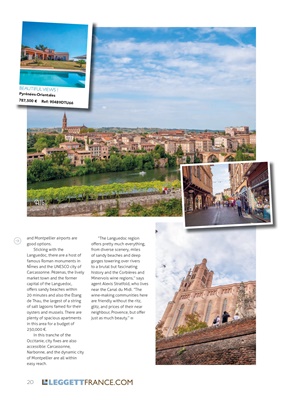 20 LEGGETTFRANCE.COM
20
and Montpellier airports are
good options.
Sticking with the
Languedoc, there are a host of
famous Roman monuments in
NÎmes and the UNESCO city of
Carcassonne. Pézenas, the lively
market town and the former
capital of the Languedoc,
off ers sandy beaches within
20 minutes and also the Étang
de Thau, the largest of a string
of salt lagoons famed for their
oysters and mussels. There are
plenty of spacious apartments
in this area for a budget of
250,000 €.
In this tranche of the
Occitanie, city fi xes are also
accessible: Carcassonne,
Narbonne, and the dynamic city
of Montpellier are all within
easy reach.
"The Languedoc region
off ers pretty much everything,
from diverse scenery, miles
of sandy beaches and deep
gorges towering over rivers
to a brutal but fascinating
history and the Corbières and
Minervois wine regions," says
agent Alexis Stratfold, who lives
near the Canal du Midi. "The
wine-making communities here
are friendly without the ritz,
glitz, and prices of their near
neighbour, Provence, but off er
just as much beauty."
BEAUTIFUL VIEWS !
Pyrénées-Orientales
787,500 € Ref: 90489DTU66
Albi