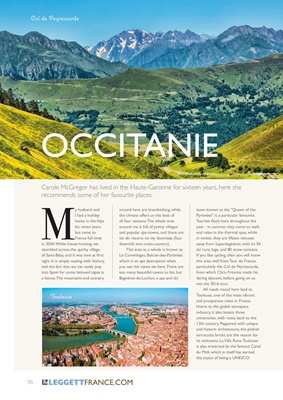 76 LEGGETTFRANCE.COM
OCCITANIE
M
y husband and
I had a holiday
home in the Alps
for seven years
but came to
France full time
in 2004. While house-hunting, we
stumbled across the quirky village
of Saint-Béat, and it was love at fi rst
sight. It is simply oozing with history,
and the fact that we can easily pop
into Spain for some beloved tapas is
a bonus. The mountains and scenery
Carole McGregor has lived in the Haute-Garonne for sixteen years, here she
recommends some of her favourite places.
around here are breathtaking, while
the climate offers us the best of
all four seasons. The whole area
around me is full of pretty villages
and popular spa-towns, and there are
six ski resorts on my doorstep (four
downhill, two cross-country).
This area as a whole is known as
Le Comminges, Balcon-des-Pyrénées
which is an apt description when
you see the views we have. There are
too many beautiful towns to list, but
Bagnères-de-Luchon, a spa and ski
town known as the "Queen of the
Pyrénées" is a particular favourite.
Tourists fl ock here throughout the
year - in summer, they come to walk
and relax in the thermal spas, while
in winter, they are fi fteen minutes
away from Superbagnères, with its 30
ski runs, luge, and 80 snow cannons.
If you like cycling, then you will know
this area well from Tour de France,
particularly the Col de Peyresourde,
from which Chris Froome made his
daring descent, before going on to
win the 2016 tour.
All roads round here lead to
Toulouse, one of the most vibrant
and prosperous cities in France.
Home to the global aerospace
industry, it also boasts three
universities, with roots back to the
13th century. Peppered with unique
and historic architecture, the pinkish
terracotta bricks are the reason for
its nickname, La Ville Rose. Toulouse
is also traversed by the famous Canal
du Midi, which in itself has earned
the status of being a UNESCO
Col de Peyresourde
Toulouse