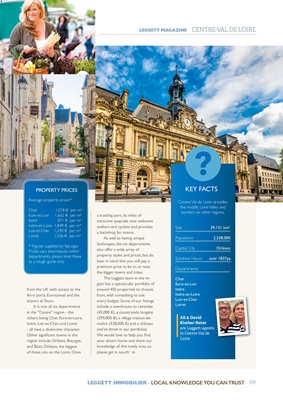 69
LEGGETT IMMOBILIER - LOCAL KNOWLEDGE YOU CAN TRUST
KEY FACTS
Centre-Val de Loire straddles
the middle Loire Valley and
borders six other regions.
Size 39,151 km²
Population 2,538,000
Capital City Orléans
Sunshine Hours over 1827pa
Departments:
Cher
Eure-et-Loir
Indre
Indre-et-Loire
Loir-et-Cher
Loiret
Ali & David
Kimber-Bates
are Legge" agents
in Centre-Val de
Loire?
from the UK with access to the
ferry ports, Eurotunnel and the
airport at Tours.
It is one of six departments
in the "Centre" region - the
others being Cher, Eure-et-Loire,
Indre, Loir-et-Cher, and Loiret
- all have a distinctive character.
Other signifi cant towns in the
region include Orléans, Bourges,
and Blois. Orléans, the biggest
of these, sits on the Loire. Once
a bustling port, its miles of
attractive quayside now welcome
walkers and cyclists and provides
a backdrop for events.
As well as having unique
landscapes, the six departments
also offer a wide array of
property styles and prices, but do
bear in mind that you will pay a
premium price to be in, or near,
the bigger towns and cities.
The Leggett team in the region has a spectacular portfolio
of
around 450 properties to choose
from, with something to suit
every budget. Some of our listings
include a townhouse to renovate
(45,000 €), a countryside longère
(299,000 €), a village maison-demaître
(328,000 €) and a château
(we've three in our portfolio).
We would love to help you fi nd
your dream home and share our
knowledge of this lovely area, so
please get in touch!
Average property prices*
Cher 1,078 € per m²
Eure-et-Loir 1,662 € per m²
Indre 871 € per m²
Indre-et-Loire 1,849 € per m²
Loir-et-Cher 1,290 € per m²
Loiret 1,506 € per m²
* Figures supplied by SeLoger.
Prices vary enormously within
departments, please treat these
as a rough guide only.
PROPERTY PRICES
LEGGETT MAGAZINE CENTREºVAL DE LOIRE
Tours