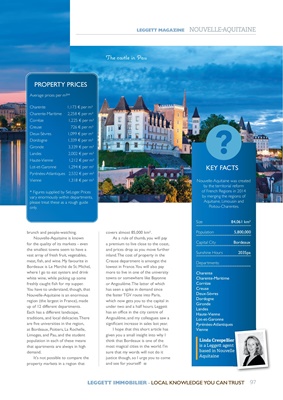 LEGGETT MAGAZINE NOUVELLEºAQUITAINE
brunch and people-watching.
Nouvelle-Aquitaine is known
for the quality of its markets - even
the smallest towns seem to have a
vast array of fresh fruit, vegetables,
meat, fi sh, and wine. My favourite in
Bordeaux is Le Marché de St. Michel,
where I go to eat oysters and drink
white wine, while picking up some
freshly caught fi sh for my supper.
You have to understand, though, that
Nouvelle-Aquitaine is an enormous
region (the largest in France), made
up of 12 different departments.
Each has a different landscape,
traditions, and local delicacies. There
are fi ve universities in the region,
at Bordeaux, Poitiers, La Rochelle,
Limoges, and Pau, and the student
population in each of these means
that apartments are always in high
demand.
It's not possible to compare the
property markets in a region that
covers almost 85,000 km².
As a rule of thumb, you will pay
a premium to live close to the coast,
and prices drop as you move further
inland. The cost of property in the
Creuse department is amongst the
lowest in France. You will also pay
more to live in one of the university
towns or somewhere like Bayonne
or Angoulême. The latter of which
has seen a spike in demand since
the faster TGV route into Paris,
which now gets you to the capital in
under two and a half hours. Leggett
has an offi ce in the city centre of
Angoulême, and my colleagues saw a
signifi cant increase in sales last year.
I hope that this short article has
given you a small insight into why I
think that Bordeaux is one of the
most magical cities in the world. I'm
sure that my words will not do it
justice though, so I urge you to come
and see for yourself!
KEY FACTS
Nouvelle-Aquitaine was created
by the territorial reform
of French Regions in 2014
by merging the regions: of
Aquitaine, Limousin and
Poitou-Charentes.
Size 84,061 km²
Population 5,800,000
Capital City Bordeaux
Sunshine Hours 2035pa
Departments:
Charente
Charente-Maritime
Corrèze
Creuse
Deux-Sèvres
Dordogne
Gironde
Landes
Haute-Vienne
Lot-et-Garonne
Pyrénées-Atlantiques
Vienne
The castle in Pau
Average prices per m²*
Charente 1,173 € per m²
Charente-Maritime 2,258 € per m²
Corrèze 1,225 € per m²
Creuse 726 € per m²
Deux-Sèvres 1,099 € per m²
Dordogne 1,339 € per m²
Gironde 3,339 € per m²
Landes 2,002 € per m²
Haute-Vienne 1,212 € per m²
Lot-et-Garonne 1,294 € per m²
Pyrénées-Atlantiques 2,532 € per m²
Vienne 1,318 € per m²
* Figures supplied by SeLoger. Prices
vary enormously within departments,
please treat these as a rough guide
only.
PROPERTY PRICES
97
LEGGETT IMMOBILIER - LOCAL KNOWLEDGE YOU CAN TRUST
Linda Crespellier
is a Legge" agent
based in Nouvelle
Aquitaine
?