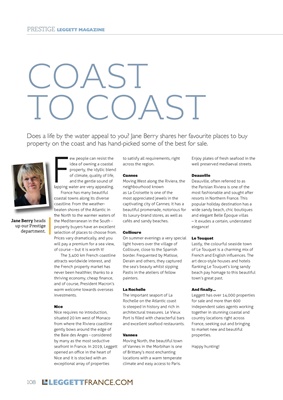 108108108 LEGGETTFRANCE.COM
PRESTIGE LEGGETT MAGAZINE
COAST
TO COAST
F
ew people can resist the
idea of owning a coastal
property, the idyllic blend
of climate, quality of life,
and the gentle sound of
lapping water are very appealing.
France has many beautiful
coastal towns along its diverse
coastline. From the weatherbeaten shores
of the Atlantic in
the North to the warmer waters of
the Mediterranean in the South -
property buyers have an excellent
selection of places to choose from.
Prices vary dramatically, and you
will pay a premium for a sea view,
of course - but it is worth it!
The 3,400 km French coastline
attracts worldwide interest, and
the French property market has
never been healthier, thanks to a
thriving economy, cheap fi nance,
and of course, President Macron's
warm welcome towards overseas
investments.
Nice
Nice requires no introduction,
situated 20 km west of Monaco
from where the Riviera coastline
gently bows around the edge of
the Baie des Anges - considered
by many as the most seductive
seafront in France. In 2019, Leggett
opened an offi ce in the heart of
Nice and it is stocked with an
exceptional array of properties
Does a life by the water appeal to you? Jane Berry shares her favourite places to buy
property on the coast and has hand-picked some of the best for sale.
to satisfy all requirements, right
across the region.
Cannes
Moving West along the Riviera, the
neighbourhood known
as La Croisette is one of the
most appreciated jewels in the
captivating city of Cannes; it has a
beautiful promenade, notorious for
its luxury-brand stores, as well as
cafés and sandy beaches.
Collioure
On summer evenings a very special
light hovers over the village of
Collioure, close to the Spanish
border. Frequented by Matisse,
Derain and others, they captured
the sea's beauty whilst sipping
Pastis in the ateliers of fellow
painters.
La Rochelle
The important seaport of La
Rochelle on the Atlantic coast
is steeped in history and rich in
architectural treasures. Le Vieux
Port is fi lled with characterful bars
and excellent seafood restaurants.
Vannes
Moving North, the beautiful town
of  Vannes  in the Morbihan is one
of  Brittany's  most enchanting
locations with a warm temperate
climate and easy access to Paris.
Enjoy plates of fresh seafood in the
well preserved mediaeval streets.
Deauville
Deauville, often referred to as
the Parisian Riviera is one of the
most fashionable and sought after
resorts in Northern France. This
popular holiday destination has a
wide sandy beach, chic boutiques
and elegant Belle Époque villas
- it exudes a certain, understated
elegance!
Le Touquet
Lastly, the colourful seaside town
of  Le Touquet is a charming mix of
French and English infl uences. The
art deco-style houses and hotels
fl anking Le Touquet's long sandy
beach pay homage to this beautiful
town's great past.
And fi nally...
Leggett has over 14,000 properties
for sale and more than 600
independent sales agents working
together in stunning coastal and
country locations right across
France, seeking out and bringing
to market new and beautiful
properties.
Happy hunting!
lapping water are very appealing.
coastal towns along its diverse
coastline. From the weatherbeaten shores
of the Atlantic in
the North to the warmer waters of
Jane Berry heads
up our Prestige
department.