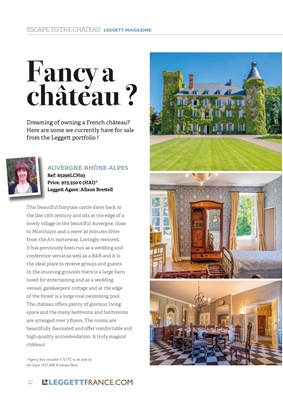 Fancy a
château ?
This beautiful fairytale castle dates back to
the late 13th century and sits at the edge of a
lovely village in the beautiful Auvergne, close
to Montluçon and a mere 30 minutes drive
from the A71 motorway. Lovingly restored,
it has previously been run as a wedding and
conference venue as well as a B&B and it is
the ideal place to receive groups and guests.
In the stunning grounds there is a large barn
(used for entertaining and as a wedding
venue), gatekeepers' co" age and at the edge
of the forest is a large oval swimming pool.
The château off ers plenty of glorious living
space and the many bedrooms and bathrooms
are arranged over 3 fl oors. The rooms are
beautifully decorated and off er comfortable and
high-quality accommodation. A truly magical
château!
Dreaming of owning a French château?
Here are some we currently have for sale
from the Legge" portfolio !
AUVERGNE-RHÔNE-ALPES
Ref: 85298LCH03
Price: 973,350 € (HAI)*
Legge
Agent: Alison Bre
ell
*Agency fees included: 5 % TTC to be paid by
the buyer (927,000 € without fees)
ESCAPE TO THE CHÂTEAU LEGGETT MAGAZINE
LEGGETTFRANCE.COM
32