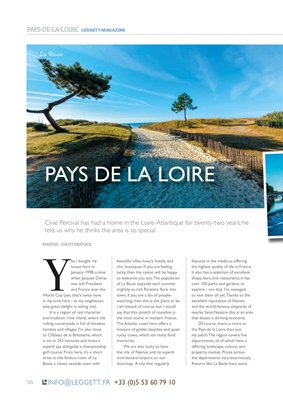 56 info@leggett.fr +33 (0)5 53 60 79 10
Y
es, I bought my
house here in
January 1998, a time
when Jacques Chirac
was still President
and France won the
World Cup (yes, that's twice now,
in my time here - as my neighbours
take great delight in telling me).
It is a region of real character
and tradition. I live inland, where the
rolling countryside is full of timeless
hamlets and villages. I'm also close
to Château de la Bretesche, which
is set in 243 hectares and hosts a
superb spa alongside a championship
golf course. From here, it's a short
drive to the famous town of La
Baule, a classic seaside town with
Clive Percival has had a home in the Loire-Atlantique for twenty-two years; he
tells us why he thinks the area is so special
beautiful villas, luxury hotels, and
chic boutiques. If you are feeling
lucky, then the casino will be happy
to welcome you too. The population
of La Baule expands each summer
mightily as rich Parisians fl ock into
town; if you are a fan of people-
watching, then this is the place to be.
I am biased, of course, but I would
say that this stretch of coastline is
the most scenic in western France.
The Atlantic coast here offers a
mixture of golden beaches and quiet
rocky coves, which stir many fond
memories.
We are also lucky to have
the city of Nantes, and its superb
international airport, on our
doorstep. A city that regularly
PAYS DE LA LOIRE
features in the media as offering
the highest quality of life in France.
It also has a selection of excellent
shops, bars, and restaurants; it has
over 100 parks and gardens to
explore - not that I've managed
to visit them all yet. Thanks to the
excellent reputation of Nantes
and the world-famous shipyards of
nearby Saint-Nazaire, this is an area
that boasts a thriving economy.
Of course, there is more to
the Pays de la Loire than just
my patch. The region covers fi ve
departments, all of which have a
differing landscape, culture, and
property market. Prices across
the departments vary enormously.
Resorts like La Baule have some
PHOTOS : SHUTTERSTOCK
PAYSºDEºLAºLOIRE LEGGETT MAGAZINE
La Baule