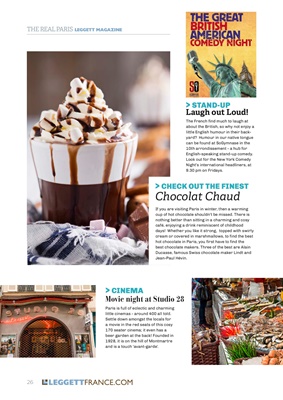 26 LEGGETTFRANCE.COM
If you are visiting Paris in winter, then a warming
cup of hot chocolate shouldn't be missed. There is
nothing better than sitting in a charming and cosy
café, enjoying a drink reminiscent of childhood
days! Whether you like it strong, topped with swirly
cream or covered in marshmallows, to find the best
hot chocolate in Paris, you first have to find the
best chocolate makers. Three of the best are Alain
Ducasse, famous Swiss chocolate maker Lindt and
Jean-Paul Hévin.
> CHECK OUT THE FINEST
Chocolat Chaud
The French find much to laugh at
about the British, so why not enjoy a
little English humour in their backyard? Humour
in our native tongue
can be found at SoGymnase in the
10th arrondissement - a hub for
English-speaking stand-up comedy.
Look out for the New York Comedy
Night's international headliners, at
9.30 pm on Fridays.
> STAND-UP
Laugh out Loud!
Paris is full of eclectic and charming
little cinemas - around 400 all told.
Settle down amongst the locals for
a movie in the red seats of this cosy
170 seater cinema; it even has a
beer garden at the back! Founded in
1928, it is on the hill of Montmartre
and is a touch 'avant-garde'.
> CINEMA
Movie night at Studio 28
THE REAL PARIS LEGGETT MAGAZINE