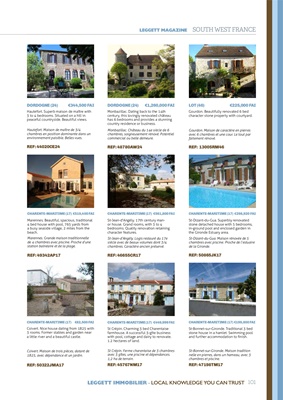 101
CHARENTE-MARITIME (17) €449,999 FAI
St Crépin. Charming 3 bed Charentaise
farmhouse. A successful 3-gîte business
with pool, cottage and dairy to renovate.
1.2 hectares of land.
St Crépin. Ferme charentaise de 3 chambres
avec 3 gîtes, une piscine et dépendances.
1,2 ha de terrain.
REF: 45767NM17
DORDOGNE (24) €344,500 FAI
Hautefort. Superb maison de maître with
3 to 4 bedrooms. Situated on a hill in
peaceful countryside. Beautiful views.
Hautefort. Maison de maître de 3/4
chambres en position dominante dans un
environnement paisible. Belles vues.
REF: 44020CE24
DORDOGNE (24) €1,260,000 FAI
Monbazillac. Dating back to the 14th
century, this lovingly renovated château
has 6 bedrooms and provides a stunning
country residence or business.
Monbazillac. Château du 14e siècle de 6
chambres, soigneusement rénové. Potentiel
commercial ou belle demeure.
REF: 48780AW24
LOT (46) €225,000 FAI
Gourdon. Beautifully renovated 6 bed
character stone property with courtyard.
Gourdon. Maison de caractère en pierres
avec 6 chambres et une cour. Le tout par
faitement rénové.
REF: 13005RM46
CHARENTE-MARITIME (17) €519,400 FAI
Marennes. Beautiful, spacious, traditional
4 bed house with pool, 765 yards from
a busy seaside village, 2 miles from the
beach.
Marennes. Grande maison traditionnelle
de 4 chambres avec piscine. Proche d'une
station balnéaire et de la plage.
REF: 49342AP17
CHARENTE-MARITIME (17) €561,800 FAI
St-Jean-d'Angély. 17th century manor house.
Grand rooms, with 3 to 4
bedrooms. Quality renovation retaining
character features.
St-Jean-d'Angély. Logis restauré du 17e
siècle avec de beaux volumes dont 3/4
chambres. Caractère ancien préservé.
REF: 46655CR17
CHARENTE-MARITIME (17) €199,800 FAI
St-Bonnet-sur-Gironde. Traditional 3 bed
stone house in a hamlet. Swimming pool
and further accommodation to finish.
St-Bonnet-sur-Gironde. Maison tradition
nelle en pierres, dans un hameau, avec 3
chambres et piscine.
REF: 47198TM17
CHARENTE-MARITIME (17) €298,920 FAI
St-Dizant-du-Gua. Superbly renovated
stone detached house with 5 bedrooms,
in-ground pool and enclosed garden in
the Gironde Estuary area.
St-Dizant-du-Gua. Maison rénovée de 5
chambres avec piscine. Proche de l'estuaire
de la Gironde.
REF: 50865JK17
CHARENTE-MARITIME (17) €82,500 FAI
Coivert. Nice house dating from 1825 with
3 rooms. Former stables and garden near
a little river and a beautiful castle.
Coivert. Maison de trois pièces, datant de
1825, avec dépendance et un jardin.
REF: 50322JMA17
LEGGETT IMMOBILIER - LOCAL KNOWLEDGE YOU CAN TRUST
LEGGETT MAGAZINE SOUTH WEST FRANCE