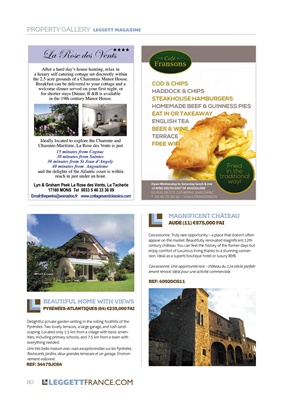 80
PROPERTY GALLERY LEGGETT MAGAZINE
Delightful private garden setting in the rolling foothills of the
Pyrénées. Two lovely terraces, a large garage, and lush landscaping.
Located only 1.5 km from a village with basic amenities, including primary schools, and 7.5 km from
a town with
everything needed.
Une très belle maison avec vues exceptionnelles sur les Pyrénées.
Ravissants jardins, deux grandes terrasses et un garage. Environnement vallonné.
BEAUTIFUL HOME WITH VIEWS
PYRÉNÉES-ATLANTIQUES (64) €235,000 FAI
REF: 34479JC64
MAGNIFICENT CHÂTEAU
AUDE (11) €975,000 FAI
Carcassonne. Truly rare opportunity - a place that doesn't often
appear on the market. Beautifully renovated magnificent 12th
century château. You can feel the history of the former days but
enjoy comfort of luxurious living thanks to a stunning conversion. Ideal as a superb boutique hotel or luxury B&B.
Carcassonne. Une opportunité rare - château du 12e siècle parfaitement rénové.
Idéal pour une activité commerciale.
REF: 40920CG11