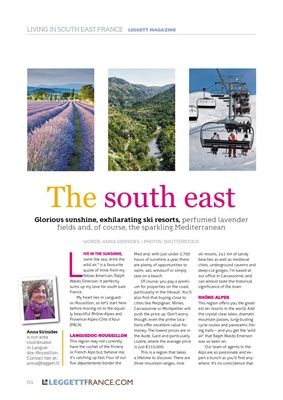 64 L
IVE IN THE SUNSHINE,
swim the sea, drink the
wild air," is a favourite
quote of mine from my
fellow American, Ralph
Waldo Emerson. It perfectly
sums up my love for south east
France.
My heart lies in Languedoc-Roussillon,
so let's start here
before moving on to the equally beautiful Rhône-Alpes and
Provence-Alpes-Côte d'Azur
(PACA).
LANGUEDOC-ROUSSILLON
This region may not currently
have the cachet of the Riviera
or French Alps but, believe me,
it's catching up fast. Four of our
five départements border the
Med and, with just under 2,700
hours of sunshine a year, there
are plenty of opportunities to
swim, sail, windsurf or simply
laze on a beach.
Of course, you pay a premium for
properties on the coast,
particularly in the Hérault. You'll
also find that buying close to
cities like Perpignan, Nîmes,
Carcassonne or Montpellier will
push the price up. Don't worry
though; even the prime locations offer
excellent value for
money. The lowest prices are in
the Aude, Gard and particularly
Lozère, where the average price
is just €110,000.
This is a region that takes
a lifetime to discover. There are
three mountain ranges, nine
The south east
Glorious sunshine, exhilarating ski resorts, perfumed lavender
fields and, of course, the sparkling Mediterranean
WORDS: ANNA SIRINIDES | PHOTOS: SHUTTERSTOCK
ski resorts, 241 km of sandy
beaches as well as medieval
cities, underground caverns and
deep-cut gorges. I'm based at
our ofice in Carcassonne, and
can almost taste the historical
significance of the town.
RHÔNE-ALPES
This region offers you the greatest ski resorts
in the world. Add
the crystal clear lakes, dramatic
mountain passes, lung-busting
cycle routes and panoramic hiking trails
- and you get the 'wild
air' that Ralph Waldo Emerson
was so keen on.
Our team of agents in the
Alps are as passionate and expert a bunch as you'll
find anywhere.
It's no coincidence that
LIVING IN SOUTH EAST FRANCE LEGGETT MAGAZINE
Anna Sirinides
is our area
coordinator
in Languedoc-Roussillon.
Contact her at:
anna@leggett.frttp://leggett.fr" target="_blank" title="Visit leggett.fr">leggett.fr