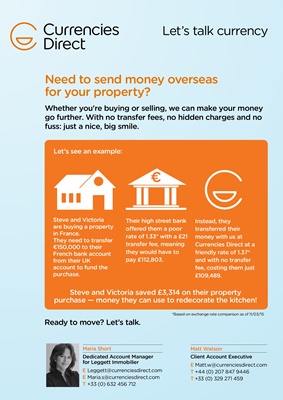 Maria Short
Dedicated Account Manager
for Leggett Immobilier
E leggett@currenciesdirect.comenciesdirmaria.s@currenciesdirect.comle="Visit currenciesdirect.com">currenciesdirect.com
E Maria.s@currenciesdirect.com
T +33 (0) 632 456 712
Let's talk currency
Need to send money overseas
for your property?
Whether you're buying or selling, we can make your money
go fmatt.w@currenciesdirect.comes, no hidden charges and no
fuss: just a nice, big smile.
Ready to move? Let's talk.
Matt Watson
Client Account Executive
E Matt.w@currenciesdirect.com
T +44 (0) 207 847 9446
T +33 (0) 329 271 459
Let's see an example:
Steve and Victoria saved £3,314 on their property
purchase - money they can use to redecorate the kitchen!
Steve and Victoria
are buying a property
in France.
They need to transfer
€150,000 to their
French bank account
from their UK
account to fund the
purchase.
Their high street bank
o'ered them a poor
rate of 1.33* with a £21
transfer fee, meaning
they would have to
pay £112,803.
Instead, they
transferred their
money with us at
Currencies Direct at a
friendly rate of 1.37*
and with no transfer
fee, costing them just
£109,489.
*Based on exchange rate comparison as of 11/03/15