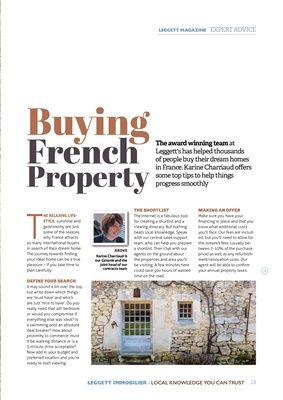 Buying
French
Property The award winning team at
Legget's has helped thousands
of people buy their dream homes
in France. Karine Charriaud offers
some top tips to help things
progress smoothly
THE SHORTLIST
The Internet is a fabulous tool
for creating a shortlist and a
viewing itinerary. But nothing
beats local knowledge. Speak
with our central sales support
team, who can help you prepare
a shortlist. Then chat with our
agents on the ground about
the properties and area you'll
be visiting. A few minutes here
could save you hours of wasted
time on the road.
T
HE RELAXING LIFESTYLE,
sunshine and
gastronomy are just
some of the reasons
why France attracts
so many international buyers
in search of their dream home.
The journey towards finding
your ideal home can be a true
pleasure - if you take time to
plan carefully.
DEFINE YOUR SEARCH
It may sound a bit over the top,
but write down which things
are 'must have' and which
are just 'nice to have'. Do you
really need that 4th bedroom
or would you compromise if
everything else was ideal? Is
a swimming pool an absolute
deal breaker? How about
proximity to commerce: must
it be walking distance or is a
5-minute drive acceptable?
Now add in your budget and
preferred location and you're
ready to start viewing.
LEGGETT IMMOBILIER - LOCAL KNOWLEDGE YOU CAN TRUST
MAKING AN OFFER
Make sure you have your
financing in place and that you
know what additional costs
you'll face. Our fees are included, but you'll
need to allow for
the notaire's fees (usually between
7-10% of the purchase
price) as well as any refurbishment/renovation
costs. Our
agent will be able to confirm
your annual property taxes. 13
LEGGETT MAGAZINE EXPERT ADVICE
ABOVE
Karine Charriaud is
our Gérante and the
joint head of our
contracts team