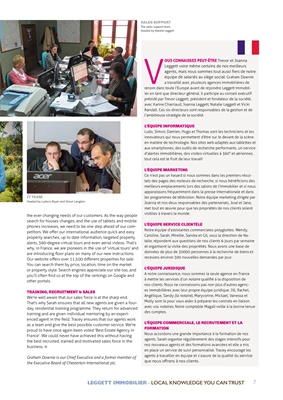 LEGGETT IMMOBILIER - LOCAL KNOWLEDGE YOU CAN TRUST 7
the ever changing needs of our customers. As the way people
search for houses changes, and the use of tablets and mobile
phones increases, we need to be one step ahead of our competitors.
We offer our international audience quick and easy
property searches, up to date information, targeted property
alerts, 360-degree virtual tours and even aerial videos. That's
why, in France, we are pioneers in the use of 'virtual tours' and
are introducing floor plans on many of our new instructions.
Our website offers over 11,500 different properties for sale.
You can search them by price, location, time on the market
or property style. Search engines appreciate our site too, and
you'll often find us at the top of the rankings on Google and
other portals.
TRAINING, RECRUITMENT & SALES
We're well aware that our sales force is at the sharp end.
That's why Sarah ensures that all new agents are given a fourday,
residential training programme. They return for advanced
training and are given individual mentoring by an experienced
agent in the field. Tracey ensures that our agents work
as a team and give the best possible customer service. We're
proud to have once again been voted 'Best Estate Agency in
France'. We could never have achieved this without having
the best recruited, trained and motivated sales force in the
business.
Graham Downie is our Chief Executive and a former member of
the Executive Board of Chesterton International plc. V
OUS CONNAISSEZ PEUT-ÊTRE Trevor et Joanna
Leggett voire même certains de nos meilleurs
agents, mais nous sommes tout aussi fiers de notre
équipe de salariés au siège social : Graham Downie
a travaillé avec plusieurs agences immobilières de
renom dans toute l'Europe avant de rejoindre Leggett Immobilier en tant que directeur
général. Il participe au conseil exécutif
présidé par Trevor Leggett, président et fondateur de la société,
avec Karine Charriaud, Joanna Leggett, Natalie Leggett et Vicki
Randall. Ces six directeurs sont responsables de la gestion et de
l'ambitieuse stratégie de la société.
L'ÉQUIPE INFORMATIQUE
Ludo, Simon, Damien, Hugo et Thomas sont les techniciens et les
innovateurs qui nous permettent d'être sur le devant de la scène
en matière de technologie. Nos sites web adaptés aux tablettes et
aux smartphones, des outils de recherche performants, un service
d'alertes immobilières, des visites virtuelles à 360° et aériennes,
tout cela est le fruit de leur travail !
L'ÉQUIPE MARKETING
Ce n'est pas un hasard si nous sommes dans les premiers résultats des pages
des moteurs de recherche, si nous bénéficions des
meilleurs emplacements lors des salons de l'immobilier et si nous
apparaissons fréquemment dans la presse internationale et dans
les programmes de télévision. Notre équipe marketing dirigée par
Joanna et nos deux responsables des partenariats, José et Jane,
met tout en œuvre pour que les propriétés de nos clients soient
visibles à travers le monde.
L'ÉQUIPE SERVICE CLIENTÈLE
Notre équipe d'assistantes commerciales polyglottes : Wendy,
Caroline, Sarah, Mireille, Sandra et Gil, sous la direction de Natalie,
répondent aux questions de nos clients 6 jours par semaine
et organisent la visite des propriétés. Nous avons une base de
données de plus de 30 000 personnes à la recherche de biens et
recevons environ 500 nouvelles demandes par jour.
L'ÉQUIPE JURIDIQUE
A notre connaissance, nous sommes la seule agence en France
à mettre les services d'un notaire qualifié à la disposition de
nos clients. Nous ne connaissons pas non plus d'autres agences immobilières
avec leur propre équipe juridique. Jill, Rachel,
Angélique, Sandy (la notaire), Maryvonne, Mickael, Vanessa et
Molly sont là pour vous aider à préparer les contrats en liaison
avec vos notaires. Notre comptable Magali veille à la bonne tenue
des comptes.
L'ÉQUIPE COMMERCIALE, LE RECRUTEMENT ET LA
FORMATION
Nous accordons une grande importance à la formation de nos
agents. Sarah organise régulièrement des stages intensifs pour
nos nouveaux agents et des formations avancées et elle a mis
en place un service de suivi personnalisé. Tracey encourage les
agents à travailler en équipe et s'assure de la qualité du service
que nous offrons à nos clients.
IT TEAM
Headed by Ludovic Boyer and Simon Langdon
SALES SUPPORT
The sales support team,
headed by Natalie Leggett