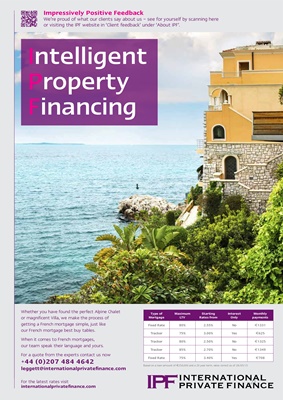 Intelligent
Property
Financing Based on a loan amount of ?250,000 and a 20 year term, rates correct as of 28/05/15
Type of
Mortgage
Maximum
LTV
Starting
Rates from
Interest
Only
Monthly
payments
Fixed Rate 80% 2.55% No y1331
Tracker 75% 3.00% Yes y625
Tracker 80% 2.50% No y1325
Tracker 85% 2.70% No y1349
Fixed Rate 75% 3.40% Yes y708
We're proud of what our clients say about us - see for yourself by scanning here
or visiting the IPF website in 'Client feedback' under 'About IPF'.
Impressively Positive Feedback
Whether you have found the perfect Alpine Chalet
or magnificent Villa, we make the process of
getting a French mortgage simple, just like
our French mortgage best buy tables.
When it comes to French mortgages,
our team speak their language and yours.
For a quote from the experts contact us now
+44 (0)207 484 4642
leggett@internationalprivatefinance.comivatefinance.com" target="_blank" title="Visit internationalprivatefinance.com">internationalprivatefinance.com
For the latest rates visit
internationalprivatefinance.com
23