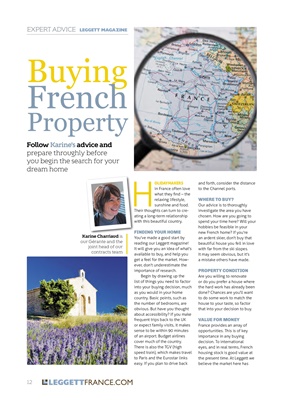 Buying
French
PropertyFollow Karine's advice and
prepare throughly before
you begin the search for your
dream home
and forth, consider the distance
to the Channel ports.
WHERE TO BUY?
Our advice is to thoroughly
investigate the area you have
chosen. How are you going to
spend your time here? Will your
hobbies be feasible in your
new French home? If you're
an ardent skier, don't buy that
beautiful house you fell in love
with far from the ski slopes.
It may seem obvious, but it's
a mistake others have made.
PROPERTY CONDITION
Are you willing to renovate
or do you prefer a house where
the hard work has already been
done? Chances are you'll want
to do some work to match the
house to your taste, so factor
that into your decision to buy.
VALUE FOR MONEY
France provides an array of
opportunities. This is of key
importance in any buying
decision. To international
eyes, and in real terms, French
housing stock is good value at
the present time. At Leggett we
believe the market here has
H
OLIDAYMAKERS
in France often love
what they find - the
relaxing lifestyle,
sunshine and food.
Their thoughts can turn to creating a long-term relationship
with this beautiful country.
FINDING YOUR HOME
You've made a good start by
reading our Leggett magazine!
It will give you an idea of what's
available to buy, and help you
get a feel for the market. However,
don't underestimate the
importance of research.
Begin by drawing up the
list of things you need to factor
into your buying decision, much
as you would in your home
country. Basic points, such as
the number of bedrooms, are
obvious. But have you thought
about accessibility? If you make
frequent trips back to the UK
or expect family visits, it makes
sense to be within 90 minutes
of an airport. Budget airlines
cover much of the country.
There is also the TGV (high
speed train), which makes travel
to Paris and the Eurostar links
easy. If you plan to drive back
Karine Charriaud is
our Gérante and the
joint head of our
contracts team
EXPERT ADVICE LEGGETT MAGAZINE