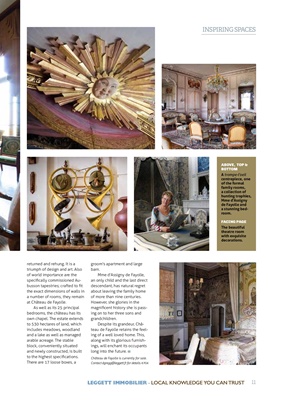 LEGGETT IMMOBILIER - LOCAL KNOWLEDGE YOU CAN TRUST 11
returned and rehung. It is a
triumph of design and art. Also
of world importance are the
specifically commissioned Aubusson
tapestries; crafted to fit
the exact dimensions of walls in
a number of rooms, they remain
at Château de Fayolle.
As well as its 25 principal
bedrooms, the château has its
own chapel. The estate extends
to 530 hectares of land, which
includes meadows, woodland
and a lake as well as managed
arable acreage. The stable
block, conveniently situated
and newly constructed, is built
to the highest specifications.
There are 17 loose boxes, a
groom's apartment and large
barn.
Mme d'Assigny de Fayolle,
an only child and the last direct
descendant, has natural regret
about leaving the family home
of more than nine centuries.
However, she glories in the
magnificent history she is passing on to her three
sons and
grandchildren.
Despite its grandeur, Château de Fayolle
retains the feeling of
a well loved home. This,
along with its glorious furnishings, will enchant its occupants
long into the future.
Château de Fayolle is currently for sale.
Contact dgregg@leggett.frttp://leggett.fr" target="_blank" title="Visit leggett.fr">leggett.fr for details. € POA
INSPIRING SPACES
ABOVE, TOP &
BOTTOM
A trompe-l'oeil
centrepiece, one
of the formal
family rooms,
a collection of
hunting trophies,
Mme d'Assigny
de Fayolle and
a stunning bedroom.
FACING PAGE
The beautiful
theatre room
with exquisite
decorations.