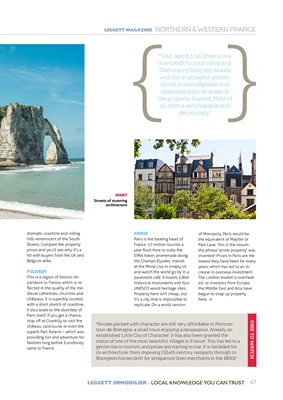 LEGGETT IMMOBILIER - LOCAL KNOWLEDGE YOU CAN TRUST 47
of Monopoly, Paris would be
the equivalent of Mayfair or
Park Lane. This is the reason
the phrase 'prime property' was
invented! Prices in Paris are the
lowest they have been for many
years, which has led to an increase
in overseas investment.
The London market is overheated, so investors
from Europe,
the Middle East and Asia have
begun to snap up property
here.
LEGGETT MAGAZINE NORTHERN & WESTERN FRANCE
RIGHT
Streets of stunning
architecture
"Your agent, Lisa Greene, is a
true credit to your company.
She's everything you would
wish for in an agent: professional, knowledgeable
and
experienced in all areas of
the property market. Most of
all, she's a very likeable and
decent lady"
dramatic coastline and rolling
hills reminiscent of the South
Downs. Compare the property
prices and you'll see why it's a
hit with buyers from the UK and
Belgium alike.
PICARDY
This is a region of historic importance
to France, which is reflected in the quality of
the medieval
cathedrals, churches and
châteaux. It is superbly located,
with a short stretch of coastline.
It also leads to the doorstep of
Paris itself. If you get a chance,
stop off at Chantilly to visit the
château, racecourse or even the
superb Parc Asterix - which was
providing fun and adventure for
families long before Eurodisney
came to France.
PARIS
Paris is the beating heart of
France. 17 million tourists a
year flock here to scale the
Eiffel tower, promenade along
the Champs-Élysées, marvel
at the Mona Lisa or simply sit
and watch the world go by in a
pavement café. It boasts 3,800
historical monuments and four
UNESCO world heritage sites.
Property here isn't cheap, but
it's a city that is impossible to
replicate. On a world version
{ {
"Houses packed with character are still very affordable in Moncontour-de-Bretagne,
a small town enjoying a renaissance. Already an
established 'Little City of Character', it has also been granted the
status of 'one of the most beautiful villages in France'. This has led to a
gentle rise in tourism, and prices are starting to rise. It is heralded for
its architecture: from imposing 13/14th century ramparts through to
Bourgeois houses built for prosperous linen merchants in the 1800s" ONE TO WATCH