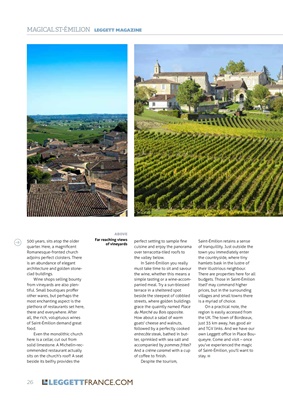 ABOVE
Far reaching views
of vineyards
MAGICAL ST-ÉMILION LEGGETT MAGAZINE
500 years, sits atop the older
quarter. Here, a magnificent
Romanesque-fronted church
adjoins perfect cloisters. There
is an abundance of elegant
architecture and golden stoneclad buildings.
Wine shops selling bounty
from vineyards are also plentiful. Small boutiques proffer
other wares, but perhaps the
most enchanting aspect is the
plethora of restaurants set here,
there and everywhere. After
all, the rich, voluptuous wines
of Saint-Émilion demand great
food.
Even the monolithic church
here is a cellar, cut out from
solid limestone. A Michelin-recommended restaurant
actually
sits on the church's roof! A seat
beside its belfry provides the
perfect setting to sample fine
cuisine and enjoy the panorama
over terracotta-tiled roofs to
the valley below.
In Saint-Émilion you really
must take time to sit and savour
the wine, whether this means a
simple tasting or a wine-accompanied meal. Try
a sun-blessed
terrace in a sheltered spot
beside the steepest of cobbled
streets, where golden buildings
grace the quaintly named Place
du Marché au Bois opposite.
How about a salad of warm
goats' cheese and walnuts,
followed by a perfectly cooked
entrecôte steak, bathed in butter,
sprinkled with sea salt and
accompanied by pommes frites?
And a crème caramel with a cup
of coffee to finish.
Despite the tourism,
Saint-Émilion retains a sense
of tranquillity. Just outside the
town you immediately enter
the countryside, where tiny
hamlets bask in the lustre of
their illustrious neighbour.
There are properties here for all
budgets. Those in Saint-Émilion
itself may command higher
prices, but in the surrounding
villages and small towns there
is a myriad of choice.
On a practical note, the
region is easily accessed from
the UK. The town of Bordeaux,
just 35 km away, has good air
and TGV links. And we have our
own Leggett ofice in Place Bouqueyre.
Come and visit - once
you've experienced the magic
of Saint-Émilion, you'll want to
stay.