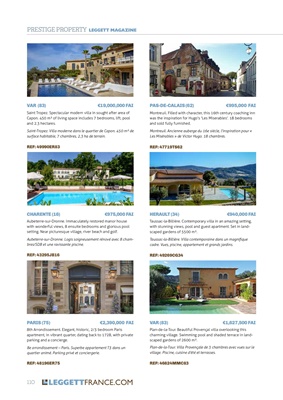 110
PRESTIGE PROPERTY LEGGETT MAGAZINE
VAR (83) €19,000,000 FAI
Saint Tropez. Spectacular modern villa in sought after area of
Capon. 450 m² of living space includes 7 bedrooms, lift, pool
and 2.3 hectares.
Saint-Tropez. Villa moderne dans le quartier de Capon. 450 m² de
surface habitable, 7 chambres, 2,3 ha de terrain.
REF: 49990ER83
PAS-DE-CALAIS (62) €995,000 FAI
Montreuil. Filled with character, this 16th century coaching inn
was the inspiration for Hugo's 'Les Miserables'. 18 bedrooms
and sold fully furnished.
Montreuil. Ancienne auberge du 16e siècle, l'inspiration pour «
Les Misérables » de Victor Hugo. 18 chambres.
REF: 47719TS62
CHARENTE (16) €975,000 FAI
Aubeterre-sur-Dronne. Immaculately restored manor house
with wonderful views, 8 ensuite bedrooms and glorious pool
setting. Near picturesque village, river beach and golf.
Aubeterre-sur-Dronne. Logis soigneusement rénové avec 8 chambres/SDB et une ravissante
piscine.
REF: 43295JB16
HERAULT (34) €940,000 FAI
Taussac-la-Billière. Contemporary villa in an amazing setting,
with stunning views, pool and guest apartment. Set in landscaped gardens
of 5500 m².
Taussac-la-Billière. Villa contemporaine dans un magnifique
cadre. Vues, piscine, appartement et grands jardins.
REF: 49269CG34
PARIS (75) €2,390,000 FAI
8th Arrondissement. Elegant, historic, 2/3 bedroom Paris
apartment, in vibrant quarter, dating back to 1728, with private
parking and a concierge.
8e arrondissement - Paris. Superbe appartement T3 dans un
quartier animé. Parking privé et conciergerie.
REF: 48196ER75
VAR (83) €1,627,500 FAI
Plan-de-la-Tour. Beautiful Provençal villa overlooking this
charming village. Swimming pool and shaded terrace in landscaped gardens
of 2600 m².
Plan-de-la-Tour. Villa Provençale de 3 chambres avec vues sur le
village. Piscine, cuisine d'été et terrasses.
REF: 46824MMC83