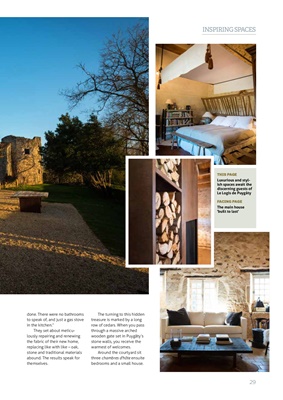 29
INSPIRING SPACES
done. There were no bathrooms
to speak of, and just a gas stove
in the kitchen."
They set about meticulously repairing
and renewing
the fabric of their new home,
replacing like with like - oak,
stone and traditional materials
abound. The results speak for
themselves.
The turning to this hidden
treasure is marked by a long
row of cedars. When you pass
through a massive arched
wooden gate set in Puygâty's
stone walls, you receive the
warmest of welcomes.
Around the courtyard sit
three chambres d'hôte ensuite
bedrooms and a small house.
THIS PAGE
Luxurious and stylish spaces
await the
discerning guests of
Le Logis de Puygâty
FACING PAGE
The main house
'built to last'