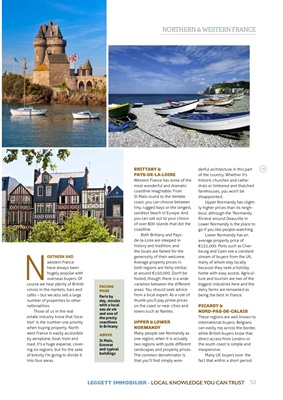 LEGGETT IMMOBILIER - LOCAL KNOWLEDGE YOU CAN TRUST 53
derful architecture in this part
of the country. Whether it's
historic churches and cathedrals
or timbered and thatched
farmhouses, you won't be
disappointed.
Upper Normandy has slightly higher prices
than its neighbour,
although the 'Normandy
Riviera' around Deauville in
Lower Normandy is the place to
go if you like people-watching.
Lower Normandy has an
average property price of
€132,000. Ports such as Cherbourg
and Caen see a constant
stream of buyers from the UK,
many of whom stay locally
because they seek a holiday
home with easy access. Agriculture
and tourism are two of the
biggest industries here and the
dairy farms are renowned as
being the best in France.
PICARDY &
NORD-PAS-DE-CALAIS
These regions are well known to
international buyers. Belgians
can easily nip across the border,
while British buyers know that
direct access from London or
the south coast is simple and
inexpensive.
Many UK buyers love the
fact that within a short period
NORTHERN & WESTERN FRANCE
N
ORTHERN AND
western France
have always been
hugely popular with
overseas buyers. Of
course we hear plenty of British
voices in the markets, bars and
cafés - but we also sell a large
number of properties to other
nationalities.
Those of us in the real
estate industry know that 'location' is the number one priority
when buying property. North
west France is easily accessible
by aeroplane, boat, train and
road. It's a huge expanse, covering six regions,
but for the sake
of brevity I'm going to divide it
into four areas.
BRITTANY &
PAYS-DE-LA-LOIRE
Western France has some of the
most wonderful and dramatic
coastline imaginable. From
St Malo round to the Vendée
coast, you can choose between
tiny, rugged bays or the longest,
sandiest beach in Europe. And
you can sail out to your choice
of over 800 islands that dot the
coastline.
Both Brittany and Paysde-la-Loire
are steeped in
history and tradition, and
the locals are famed for the
generosity of their welcome.
Average property prices in
both regions are fairly similar,
at around €150,000. Don't be
fooled, though: there is a wide
variation between the different
areas. You should seek advice
from a local expert. As a rule of
thumb you'll pay prime prices
on the coast or near cities and
towns such as Nantes.
UPPER & LOWER
NORMANDY
Many people see Normandy as
one region, when it is actually
two regions with quite different
landscapes and property prices.
The common denominator is
that you'll find simply wonFACING
PAGE
Paris by
day, moules
with a local
eau de vie
and one of
the pretty
coastlines
in Brittany
ABOVE
St Malo,
Estretat
and typical
buildings