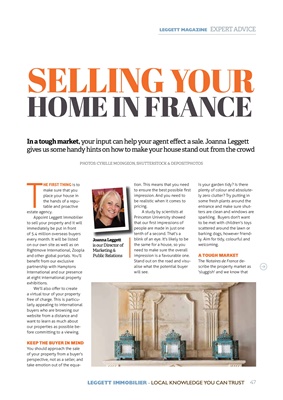 LEGGETT IMMOBILIER - LOCAL KNOWLEDGE YOU CAN TRUST
SELLING YOUR
HOME IN FRANCE
In a tough market, your input can help your agent effect a sale. Joanna Legget
gives us some handy hints on how to make your house stand out from the crowd
tion. This means that you need
to ensure the best possible first
impression. And you need to
be realistic when it comes to
pricing.
A study by scientists at
Princeton University showed
that our first impressions of
people are made in just one
tenth of a second. That's a
blink of an eye. It's likely to be
the same for a house, so you
need to make sure the overall
impression is a favourable one.
Stand out on the road and visualise what the potential buyer
will see.
Is your garden tidy? Is there
plenty of colour and absolutely zero
clutter? Try putting in
some fresh plants around the
entrance and make sure shutters
are clean and windows are
sparkling. Buyers don't want
to be met with children's toys
scattered around the lawn or
barking dogs, however friendly.
Aim for tidy, colourful and
welcoming.
A TOUGH MARKET
The Notaires de France describe the property
market as
'sluggish' and we know that
T
HE FIRST THING is to
make sure that you
place your house in
the hands of a reputable and proactive
estate agency.
Appoint Leggett Immobilier
to sell your property and it will
immediately be put in front
of 5.4 million overseas buyers
every month. It will be listed
on our own site as well as on
Rightmove International, Zoopla
and other global portals. You'll
benefit from our exclusive
partnership with Hamptons
International and our presence
at eight international property
exhibitions.
We'll also offer to create
a virtual tour of your property
free of charge. This is particularly appealing to international
buyers who are browsing our
website from a distance and
want to learn as much about
our properties as possible before
committing to a viewing.
KEEP THE BUYER IN MIND
You should approach the sale
of your property from a buyer's
perspective, not as a seller, and
take emotion out of the equaPHOTOS:
CYRILLE MOINGEON, SHUTTERSTOCK & DEPOSITPHOTOS
47
LEGGETT MAGAZINE EXPERT ADVICE
Joanna Legget
is our Director of
Marketing &
Public Relations