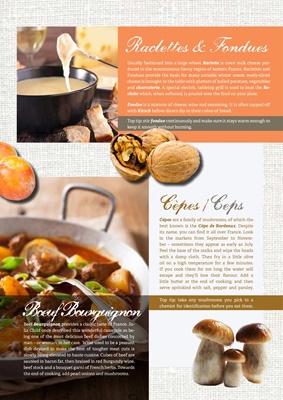 35
Cèpes / Ceps
Raclettes & Fondues
Boeuf Bourguignon
Beef Bourguignon provides a classic taste of France. Julia Child
once described this wonderful casserole as being one of
the most delicious beef dishes concocted by
man - or woman, in her case. What used to be a peasant
dish devised to make the best of tougher meat cuts is
slowly being elevated to haute cuisine. Cubes of beef are
sautéed in bacon fat, then braised in red Burgundy wine,
beef stock and a bouquet garni of French herbs. Towards
the end of cooking, add pearl onions and mushrooms.
Cèpes are a family of mushrooms, of which the
best known is the Cèpe de Bordeaux. Despite
its name, you can find it all over France. Look
in the markets from September to November
- sometimes they appear as early as July.
Peel the base of the stalks and wipe the heads
with a damp cloth. Then fry in a litle olive
oil on a high temperature for a few minutes.
If you cook them for too long the water will
escape and they'll lose their flavour. Add a
litle buter at the end of cooking, and then
serve sprinkled with salt, pepper and parsley.
Top tip: take any mushrooms you pick to a
chemist for identification before you eat them.
Usually fashioned into a large wheel, Raclete is cows' milk cheese produced
in the mountainous Savoy region of eastern France. Racletes and
Fondues provide the basis for many sociable winter meals; ready-sliced
cheese is brought to the table with platers of boiled potatoes, vegetables
and charcuterie. A special electric, tabletop grill is used to heat the Raclete
which, when sotened, is poured over the food on your plate.
Fondue is a mixture of cheese, wine and seasoning. It is oten topped off
with Kirsch before diners dip in their cubes of bread.
Top tip: stir fondue continuously and make sure it stays warm enough to
keep it smooth without burning.