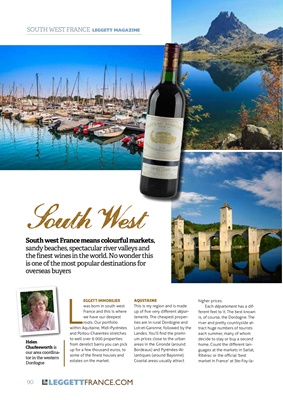 L
EGGETT IMMOBILIER
was born in south west
France and this is where
we have our deepest
roots. Our portfolio
within Aquitaine, Midi-Pyrénées
and Poitou-Charentes stretches
to well over 6 000 properties:
from derelict barns you can pick
up for a few thousand euros, to
some of the finest houses and
estates on the market.
AQUITAINE
This is my region and is made
up of five very different départements.
The cheapest properties are
in rural Dordogne and
Lot-et-Garonne, followed by the
Landes. You'll find the premium prices
close to the urban
areas in the Gironde (around
Bordeaux) and Pyrénées-Atlantiques (around
Bayonne).
Coastal areas usually attract
South WestSouth west France means colourful markets,
sandy beaches, spectacular river valleys and
the finest wines in the world. No wonder this
is one of the most popular destinations for
overseas buyers
higher prices.
Each département has a different
feel to it. The best known
is, of course, the Dordogne. The
river and pretty countryside attract
huge numbers of tourists
each summer, many of whom
decide to stay or buy a second
home. Count the different languages
at the markets in Sarlat,
Ribérac or the oficial 'best
market in France' at Ste-Foy-la-
Helen
Charlesworth is
our area coordinator
in the western
Dordogne
Albi
Atlantic coast Market day!
SOUTH WEST FRANCE LEGGETT MAGAZINE