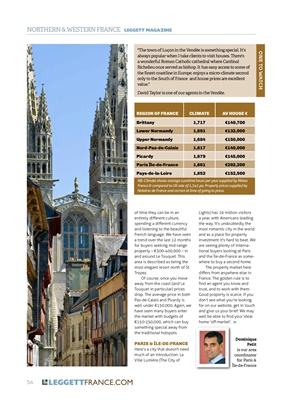 Dominique
Petit
is our area
coordinator
for Paris &
Île-de-France
REGION OF FRANCE
CLIMATE
AV HOUSE €
Brittany 1,717 €149,700
Lower Normandy 1,691 €132,000
Upper Normandy 1,684 €150,000
N o r d - P a s - d e - C a l a i s 1,617 €140,000
Picardy 1,679 €145,000
Paris Île-de-France 1,661 €292,200
Pays-de-la-Loire 1,852 €152,500
NB : Climate shows average sunshine hours per year supplied by Meteo
France & compared to UK rate of 1,341 pa. Property prices supplied by
Notaires de France and correct at time of going to press.
of time they can be in an
entirely different culture,
spending a different currency
and listening to the beautiful
French language. We have seen
a trend over the last 12 months
for buyers seeking mid-range
property - €300-400,000 - in
and around Le Touquet. This
area is described as being the
most elegant resort north of St
Tropez.
Of course, once you move
away from the coast (and Le
Touquet in particular) prices
drop. The average price in both
Pas-de-Calais and Picardy is
well under €150,000. Again, we
have seen many buyers enter
the market with budgets of
€150-250,000, which can buy
something special away from
the traditional hotspots.
PARIS & ÎLE-DE-FRANCE
Here's a city that doesn't need
much of an introduction. La
Ville Lumière (The City of
Lights) has 16 million visitors
a year, with Americans leading
the way. It's undoubtedly the
most romantic city in the world
and as a place for property
investment it's hard to beat. We
are seeing plenty of international buyers
looking at Paris
and the Île-de-France as somewhere
to buy a second home.
The property market here
differs from anywhere else in
France. The golden rule is to
find an agent you know and
trust, and to work with them.
Good property is scarce. If you
don't see what you're looking
for on our website, get in touch
and give us your brief. We may
well be able to find your ideal
home 'off-market'.
"The town of Luçon in the Vendée is something special. It's
always popular when I take clients to visit houses. There's
a wonderful Roman Catholic cathedral where Cardinal
Richelieu once served as bishop. It has easy access to some of
the finest coastline in Europe, enjoys a micro-climate second
only to the South of France and house prices are excellent
value."
David Taylor is one of our agents in the Vendée.
ONE TO WATCH
NORTHERN & WESTERN FRANCE LEGGETT MAGAZINE