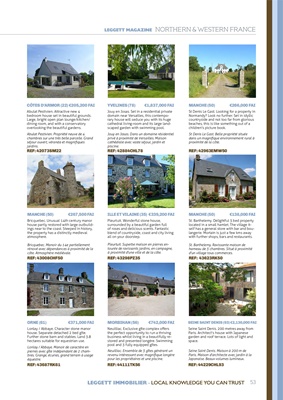 LEGGETT IMMOBILIER - LOCAL KNOWLEDGE YOU CAN TRUST 53
CÔTES D'ARMOR (22) €205,200 FAI
Abulat Pestivien. Attractive new 4
bedroom house set in beautiful grounds.
Large, bright open plan lounge/kitchen/
dining room, and with a conservatory
overlooking the beautiful gardens.
Abulat Pestivien. Propriété neuve de 4
chambres sur une très belle parcelle. Grand
séjour ouvert, véranda et magnifiques
jardins.
REF: 42073SM22
YVELINES (78) €1,837,000 FAI
Jouy en Josas. Set in a residential private
domain near Versailles, this contemporary
house will seduce you with its huge
cathedral living-room and its large landscaped garden
with swimming pool.
Jouy en Josas. Dans un domaine résidentiel
privé à proximité de Versailles. Maison
cathédrale avec vaste séjour, jardin et
piscine.
REF: 42884CHL78
MANCHE (50) €266,000 FAI
St Denis Le Gast. Looking for a property in
Normandy? Look no further. Set in idyllic
countryside and not too far from glorious
beaches, this is like something out of a
children's picture book.
St Denis Le Gast. Belle propriété située
dans un magnifique environnement rural à
proximité de la côte.
REF: 42963EMW50
MANCHE (50) €267,500 FAI
Bricquebec. Unusual 14th century manor
house partly restored with large outbuildings near to the coast.
Steeped in history,
the property has a distinctly medieval
atmosphere.
Bricquebec. Manoir du 14e partiellement
rénové avec dépendances à proximité de la
côte. Atmosphère médiévale.
REF: 43008CHF50
ILLE ET VILAINE (35) €339,200 FAI
Pleurtuit. Wonderful stone house,
surrounded by a beautiful garden full
of roses and delicious scents. Fantastic
blend of countryside, coast and city living
all on your doorstep.
Pleurtuit. Superbe maison en pierres entourée de ravissants
jardins, en campagne,
à proximité d'une ville et de la côte.
REF: 43298PZ35
MANCHE (50) €138,000 FAI
St. Barthelemy. Delightful 3 bed property
located in a small hamlet. The village itself has a general
store with bar and boulangerie.
Mortain is just a few kms away
with further shops, bars and restaurants.
St. Barthelemy. Ravissante maison de
hameau de 3 chambres. Situé à proximité
d'un village tous commerces.
REF: 43623RK50
ORNE (61) €371,000 FAI
Lonlay / Abbaye. Character stone manor
house. Separate detached 2 bed gîte.
Further stone barn and stables. Land 3.8
hectares suitable for equestrian use.
Lonlay / Abbaye. Manoir de caractère en
pierres avec gîte indépendant de 2 chambres. Grange,
écuries, grand terrain à usage
équestre.
REF: 43687RK61
MORBIHAN (56) €742,000 FAI
Neuilliac. Exclusive gîte complex offers
the perfect opportunity to run a thriving
business whilst living in a beautifully restored
and presented longère. Swimming
pool and 3 fully equipped gîtes.
Neuilliac. Ensemble de 3 gîtes générant un
revenu intéressant avec magnifique longère
pour les propriétaires et une piscine.
REF: 44111TK56
SEINE SAINT DENIS (93) €2,130,000 FAI
Seine Saint Denis. 200 metres away from
Paris. Architect's house with Japanese
garden and roof terrace. Lots of light and
space.
Seine Saint Denis. Maison à 200 m de
Paris. Maison d'architecte avec jardin à la
Japonaise. Beaux volumes lumineux.
REF: 44229CHL93
LEGGETT MAGAZINE NORTHERN & WESTERN FRANCE