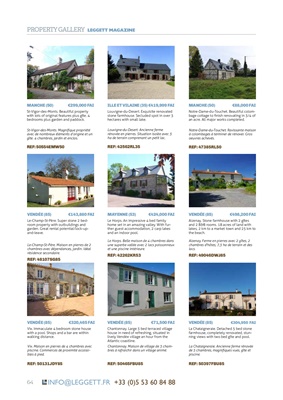 64
PROPERTY GALLERY LEGGETT MAGAZINE
MANCHE (50) €299,000 FAI
St-Vigor-des-Monts. Beautiful property
with lots of original features plus gîte. 4
bedrooms plus garden and paddock.
St-Vigor-des-Monts. Magnifique propriété
avec de nombreux éléments d'origine et un
gîte. 4 chambres, jardin et enclos.
REF: 50554EMW50
ILLE ET VILAINE (35) €419,999 FAI
Louvigne-du-Desert. Exquisite renovated
stone farmhouse. Secluded spot in over 3
hectares with small lake.
Louvigne-du-Desert. Ancienne ferme
rénovée en pierres. Situation isolée avec 3
ha de terrain comprenant un petit lac.
REF: 42562RL35
MANCHE (50) €88,000 FAI
Notre-Dame-du-Touchet. Beautiful colombage
cottage to finish renovating in 3/4 of
an acre. All major works completed.
Notre-Dame-du-Touchet. Ravissante maison
à colombages à terminer de rénover. Gros
oeuvres achevés.
REF: 47385RL50
VENDÉE (85) €143,880 FAI
Le-Champ-St-Père. Super stone 2 bedroom
property with outbuildings and
garden. Great rental potential/lock-upand-leave.
Le-Champ-St-Père. Maison en pierres de 2
chambres avec dépendances, jardin. Idéal
résidence secondaire.
REF: 48107SG85
MAYENNE (53) €424,000 FAI
Le Horps. An impressive 4 bed family
home set in an amazing valley. With further guest accommodation,
2 carp lakes
and an indoor pool.
Le Horps. Belle maison de 4 chambres dans
une superbe vallée avec 2 lacs poissonneux
et une piscine intérieure.
REF: 42262KR53
VENDÉE (85) €498,200 FAI
Aizenay. Stone farmhouse with 2 gîtes
and 2 B&B rooms. 18 acres of land with
lakes, 2 km to a market town and 25 km to
the beach.
Aizenay. Ferme en pierres avec 2 gîtes, 2
chambres d'hôtes, 7,3 ha de terrain et des
lacs.
REF: 49046DWJ85
VENDÉE (85) €320,465 FAI
Vix. Immaculate 4 bedroom stone house
with a pool. Shops and a bar are within
walking distance.
Vix. Maison en pierres de 4 chambres avec
piscine. Commerces de proximité accessibles à pied.
REF: 50131JDY85
VENDÉE (85) €71,500 FAI
Chantonnay. Large 3 bed terraced village
house in need of refreshing, situated in
lively Vendée village an hour from the
Atlantic coastline.
Chantonnay. Maison de village de 3 chambres à rafraichir
dans un village animé.
REF: 50465FBU85
VENDÉE (85) €304,950 FAI
La Chataigneraie. Detached 5 bed stone
farmhouse, completely renovated, stunning views
with two bed gîte and pool.
La Chataigneraie. Ancienne ferme rénovée
de 5 chambres, magnifiques vues, gîte et
piscine.
REF: 50397FBU85
info@leggett.frttp://leggett.fr" target="_blank" title="Visit leggett.fr">leggett.fr +33 (0)5 53 60 84 88