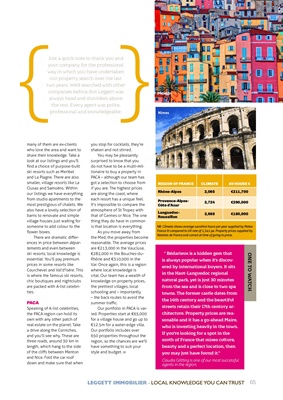 NB : Climate shows average sunshine hours per year supplied by Meteo
France & compared to UK rate of 1,341 pa. Property prices supplied by
Notaires de France and correct at time of going to press.
LEGGETT IMMOBILIER - LOCAL KNOWLEDGE YOU CAN TRUST 65
Just a quick note to thank you and
your company for the professional
way in which you have undertaken
our property search over the last
two years. We'd searched with other
companies before, but Leggett was
always head and shoulders above
the rest. Every agent was polite,
professional and knowledgeable.
ONE TO WATCH
" Bédarieux is a hidden gem that
is always popular when it's discovered
by international buyers. It sits
in the Haut-Languedoc regional
natural park, yet is just 30 minutes
from the sea and is close to two spa
towns. The former castle dates from
the 14th century and the beautiful
streets retain their 17th century architecture.
Property prices are reasonable and it has a go-ahead Maire,
who is investing heavily in the town.
If you're looking for a spot in the
south of France that mixes culture,
beauty and a perfect location, then
you may just have found it."
Claudia  Götting is one of our most successful
agents in the region.
REGION OF FRANCE
CLIMATE
AV HOUSE €
Rhône-Alpes 2,065 €211,700
Provence-AlpesCôte d'Azur
2,724 €290,000
LanguedocRoussillon
2,668 €180,000
Nimes
Menton
many of them are ex-clients
who love the area and want to
share their knowledge. Take a
look at our listings and you'll
find a choice of purpose-built
ski resorts such as Meribel
and La Plagne. There are also
smaller, village resorts like La
Clusaz and Samoëns. Within
our listings we have everything
from studio apartments to the
most prestigious of chalets. We
also have a lovely selection of
barns to renovate and simple
village houses just waiting for
someone to add colour to the
flower boxes.
There are dramatic differences
in price between départements
and even between
ski resorts; local knowledge is
essential. You'll pay premium
prices in some resorts like
Courchevel and Val'd'Isère. This
is where the famous ski resorts,
chic boutiques and nightclubs
are packed with A-list celebrities.
PACA
Speaking of A-list celebrities,
the PACA region can hold its
own with any other patch of
real estate on the planet. Take
a drive along the Corniches,
and you'll see why. These are
three roads, around 30 km in
length, which hang to the side
of the cliffs between Menton
and Nice. Fold the car roof
down and make sure that when
you stop for cocktails, they're
shaken and not stirred.
You may be pleasantly
surprised to know that you
do not have to be a multi-millionaire
to buy a property in
PACA - although our team has
got a selection to choose from
if you are. The highest prices
are along the coast, where
each resort has a unique feel.
It's impossible to compare the
atmosphere of St Tropez with
that of Cannes or Nice. The one
thing they do have in common
is that location is everything.
As you move away from
the Med, the properties become
reasonable. The average prices
are €213,000 in the Vaucluse,
€282,000 in the Bouches-duRhône and €310,000 in the
Var. Once again, this is a region
where local knowledge is
vital. Our team has a wealth of
knowledge on property prices,
the prettiest villages, local
schooling and - importantly
- the back routes to avoid the
summer trafic.
Our portfolio in PACA is varied. Properties
start at €65,000
for a village house and go up to
€12.5m for a water-edge villa.
Our portfolio includes over
650 properties throughout the
region, so the chances are we'll
have something to suit your
style and budget.
{ {