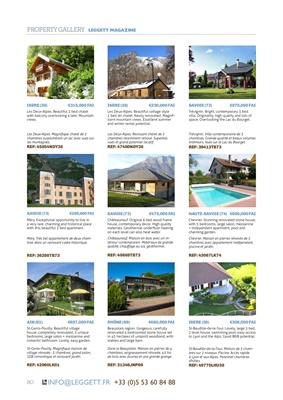 80
ISERE (38) €315,000 FAI
Les Deux-Alpes. Beautiful 2 bed chalet
with balcony overlooking a lake. Mountain
views.
Les Deux-Alpes. Magnifique chalet de 2
chambres surplombant un lac avec vues sur
les montagnes.
REF: 45854NDY38
ISERE (38) €230,000 FAI
Les Deux-Alpes. Beautiful cottage style
2 bed ski chalet. Newly renovated. Magnificent
mountain views. Excellent summer
and winter rental potential.
Les Deux-Alpes. Ravissant chalet de 2
chambres récemment rénové. Superbes
vues et grand potentiel locatif.
REF: 47480NDY38
SAVOIE (73) €970,000 FAI
Trévignin. Bright, contemporary 3 bed
villa. Originality, high quality and lots of
space. Overlooking the Lac du Bourget.
Trévignin. Villa contemporaine de 3
chambres. Grande qualité et beaux volumes
intérieurs. Vues sur le Lac du Bourget.
REF: 39413TB73
SAVOIE (73) €299,000 FAI
Méry. Exceptional opportunity to live in
a very rare, charming and historical place
with this beautiful 2 bed apartment.
Méry. Très bel appartement de deux chambres dans un ravissant
cadre historique.
REF: 36298TB73
SAVOIE (73) €475,000 FAI
Châteauneuf. Original 6 bed wood frame
house, contemporary decor. High quality
materials. Geothermal underfloor heating
on each level can also heat water.
Châteauneuf. Maison en bois avec un intérieur contemporain.
Matériaux de grande
qualité, chauffage au sol, géothermie.
REF: 49669TB73
HAUTE-SAVOIE (74) €690,000 FAI
Chevrier. Stunning renovated stone house,
with 5 bedrooms, large salon, mezzanine
+ independent apartment, pool and
charming garden.
Chevrier. Maison en pierres rénovée de 5
chambres avec appartement indépendant,
piscine et jardin.
REF: 43067LK74
AIN (01) €657,000 FAI
St-Genis-Pouilly. Beautiful village
house, completely renovated, 3 unique
bedrooms, large salon + mezzanine and
romantic bathroom. Lovely, easy garden.
St-Genis-Pouilly. Magnifique maison de
village rénovée : 3 chambres, grand salon,
SDB romantique et ravissant jardin.
REF: 42960LK01
RHÔNE (69) €680,000 FAI
Beaujolais region. Gorgeous, carefully
renovated 4 bedroomed stone house set
in 45 hectares of unspoilt woodland, with
stables and large barn.
Dans le Beaujolais. Maison en pierres de 4
chambres, soigneusement rénovée. 45 ha
de bois avec écuries et une grande grange.
REF: 31346JNP69
ISERE (38) €306,000 FAI
St-Baudille-de-la-Tour. Lovely, large 3 bed,
2 level house, swimming pool, easy access
to Lyon and the Alps. Good B&B potential.
St-Baudille-de-la-Tour. Maison de 3 chambres sur 2 niveaux.
Piscine. Accès rapide
à Lyon et aux Alpes. Potentiel chambres
d'hôtes.
REF: 49770LHU38
PROPERTY GALLERY LEGGETT MAGAZINE
info@leggett.frttp://leggett.fr" target="_blank" title="Visit leggett.fr">leggett.fr +33 (0)5 53 60 84 88