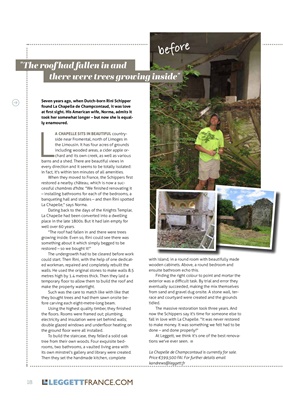 Seven years ago, when Dutch-born Rini Schipper
found La Chapelle de Champcontaud, it was love
at first sight. His American wife, Norma, admits it
took her somewhat longer - but now she is equally enamoured.
L
A CHAPELLE SITS IN BEAUTIFUL countryside near Fromental,
north of Limoges in
the Limousin. It has four acres of grounds
including wooded areas, a cider apple orchard
and its own creek, as well as various
barns and a shed. There are beautiful views in
every direction and it seems to be totally isolated:
in fact, it's within ten minutes of all amenities.
When they moved to France, the Schippers first
restored a nearby château, which is now a successful
chambres d'hôte. "We finished renovating it
- installing bathrooms for each of the bedrooms, a
banqueting hall and stables - and then Rini spotted
La Chapelle," says Norma.
Dating back to the days of the Knights Templar,
La Chapelle had been converted into a dwelling
place in the late 1800s. But it had lain empty for
well over 60 years.
"The roof had fallen in and there were trees
growing inside. Even so, Rini could see there was
something about it which simply begged to be
restored - so we bought it!"
The undergrowth had to be cleared before work
could start. Then Rini, with the help of one dedicated workman,
repaired and completely rebuilt the
walls. He used the original stones to make walls 8.5
metres high by 1.4 metres thick. Then they laid a
temporary floor to allow them to build the roof and
make the property watertight.
Such was the care to match like with like that
they bought trees and had them sawn onsite before
carving each eight-metre-long beam.
Using the highest quality timber, they finished
the floors. Rooms were framed out; plumbing,
electricity and insulation were set behind walls;
double glazed windows and underfloor heating on
the ground floor were all installed.
To build the staircase, they felled a solid oak
tree from their own woods. Four exquisite bedrooms,
two bathrooms, a vaulted living area with
its own minstrel's gallery and library were created.
Then they set the handmade kitchen, complete
with island, in a round room with beautifully made
wooden cabinets. Above, a round bedroom and
ensuite bathroom echo this.
Finding the right colour to point and mortar the
exterior was a dificult task. By trial and error they
eventually succeeded, making the mix themselves
from sand and gravel dug onsite. A stone wall, terrace
and courtyard were created and the grounds
tidied.
The massive restoration took three years. And
now the Schippers say it's time for someone else to
fall in love with La Chapelle. "It was never restored
to make money. It was something we felt had to be
done - and done properly!"
At Leggett, we think it's one of the best renovations we've
ever seen.
La Chapelle de Champcokandrews@leggett.frfor sale.
Price €399,500 FAI. For further details email
kandrews@leggett.fr
"The roof had fallen in and
there were trees growing inside"
before