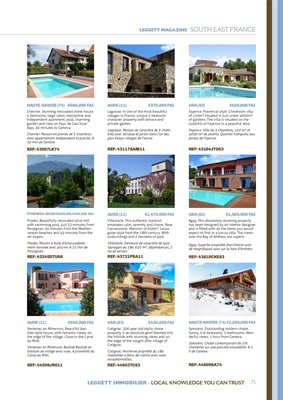 71
HAUTE-SAVOIE (74) €690,000 FAI
Chevrier. Stunning renovated stone house.
5 bedrooms, large salon, mezzanine and
independent apartment, pool, charming
garden and view on Pays de Gex/Jura/
Alps. 30 minutes to Geneva.
Chevrier. Maison en pierres de 5 chambres
avec appartement indépendant et piscine. A
30 min de Genève.
REF: 43067LK74
AUDE (11) €370,000 FAI
Lagrasse. In one of the most beautiful
villages in France, unique 3 bedroom
character property with terrace and
private garden.
Lagrasse. Maison de caractère de 3 chambres avec terrasse
et jardin dans l'un des
plus beaux villages de France.
REF: 43117SAM11
VAR (83) €629,000 FAI
Fayence. Provencal style 3 bedroom villa
of 150m² situated in just under 4000m²
of gardens. The villa is situated on the
outskirts of Fayence in a peaceful area.
Fayence. Villa de 3 chambres, 150 m² et
4000 m² de jardins. Quartier tranquille aux
portes de Fayence.
REF: 43164JTO83
PYRÉNÉES-ORIENTALES (66) €499,500 FAI
Prades. Beautifully renovated olive mill
with swimming pool, just 35 minutes from
Perpignan, 50 minutes from the Mediterranean
beaches and 45 minutes from the
ski slopes.
Prades. Moulin à huile d'olive parfaitement rénovée
avec piscine. A 35 min de
Perpignan.
REF: 43245DTU66
AUDE (11) €1,470,000 FAI
Villesiscle. This authentic mansion
emanates calm, serenity and charm. Near
Carcassonne. Mansion of 650m², Lauragaise style from
the 18th century. With
outbuildings and 2 hectares of park.
Villesiscle. Demeure de caractère de type
lauragais du 18e. 650 m², dépendances, 2
ha de terrain.
REF: 43721PSA11
VAR (83) €1,985,000 FAI
Agay. This absolutely stunning property
has been designed by an interior designer
and is fitted with all the items you would
expect to find in a luxury villa. The views
over the Bay of Antheor are superb.
Agay. Superbe propriété d'architecte avec
de magnifiques vues sur la baie d'Anthéor.
REF: 43810CKE83
AUDE (11) €540,000 FAI
Ventenac en Minervois. Beautiful bastide-style house,
with fantastic views, on
the edge of the village. Close to the Canal
du Midi.
Ventenac en Minervois. Bastide Bastide en
bordure de village avec vues. A proximité du
Canal du Midi.
REF: 44209JRO11
VAR (83) €420,000 FAI
Cotignac. 300 year old idyllic stone
property is an absolute gem! Nestled into
the hillside with stunning views and on
the edge of the sought after village of
Cotignac.
Cotignac. Ancienne propriété du 18e
implantée à flanc de colline avec vues
exceptionnelles.
REF: 44803TC83
HAUTE-SAVOIE (74) €1,200,000 FAI
Samoëns. Outstanding modern chalet.
Sunny, 5-6 bedrooms, 5 bathrooms. Wonderful views.
1 hour from Geneva.
Samoëns. Chalet contemporain de 5/6
chambres sur une parcelle ensoleillée. A 1
h de Genève.
REF: 44809SA74
LEGGETT MAGAZINE SOUTH EAST FRANCE
LEGGETT IMMOBILIER - LOCAL KNOWLEDGE YOU CAN TRUST