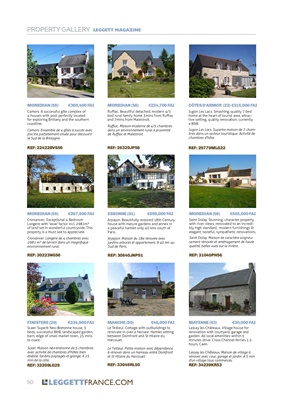 50
PROPERTY GALLERY LEGGETT MAGAZINE
FINISTERE (29) €334,900 FAI
Scaer. Superb Neo-Bretonne house, 5
beds, successful B&B, landscaped garden,
barn, edge of small market town, 25 mins
to coast.
Scaer. Maison néo-bretonne de 5 chambres
avec activité de chambres d'hôtes bien
établie. Jardins paysagés et grange. A 25
min de la côte.
REF: 32209LG29
MANCHE (50) €46,000 FAI
Le Teilleul. Cottage with outbuildings to
renovate in over a hectare. Hamlet setting
between Domfront and St Hilaire du
Harcouet.
Le Teilleul. Petite maison avec dépendance
à rénover dans un hameau entre Domfront
et St Hilaire du Harcouet.
REF: 33046RL50
MAYENNE (53) €30,000 FAI
Lassay les Châteaux. Village house for
renovation with courtyard, garage and
garden. All local amenities within 5
minutes drive. Cross Channel ferries 1.5
hours, Caen.
Lassay les Châteaux. Maison de village à
rénover avec cour, garage et jardin. A 5 min
d'un village tous commerces.
REF: 34239KR53
MORBIHAN (56) €360,400 FAI
Camors. A successful gîte complex of
4 houses with pool perfectly located
for exploring Brittany and the southern
coastline.
Camors. Ensemble de 4 gîtes à succès avec
piscine parfaitement située pour découvrir
le Sud de la Bretagne.
REF: 22422BVS56
MORBIHAN (56) €224,700 FAI
Rufiac. Beautiful detached, modern 4/5
bed rural family home 3mins from Rufiac
and 7mins from Malestroit.
Rufiac. Maison moderne de 4/5 chambres
dans un environnement rural à proximité
de Rufiac et Malestroit.
REF: 26329JP56
MORBIHAN (56) €267,500 FAI
Croixanvec. Exceptional 4 Bedroom
Longere with 'wow' factor incl. 2981m²
of land set in wonderful countryside. This
property is a must see to appreciate.
Croixanver. Longère de 4 chambres avec
2981 m² de terrain dans un magnifique
environnement rural.
REF: 30223NG56
ESSONNE (91) €995,000 FAI
Arpajon. Beautifully restored 18th Century
house with mature gardens and annex in
a peaceful hamlet only 40 kms south of
Paris.
Arpajon. Maison du 18e rénovée avec
jardins arborés et appartement. A 40 km au
Sud de Paris.
REF: 30840JNP91
CÔTES D'ARMOR (22) €315,000 FAI
Jugon Les Lacs. Smashing, quality 7 bed
home at the heart of tourist area, attractive
setting, quality renovation, currently
a B&B.
Jugon Les Lacs. Superbe maison de 7 chambres dans un secteur touristique. Activité de
chambres d'hôte.
REF: 29779MLG22
MORBIHAN (56) €565,000 FAI
Saint Dolay. Stunning character property
with river views, renovated to an incredibly high standard,
modern furnishings &
elegant, tasteful, sympathetic renovations.
Saint Dolay. Maison de caractère soigneusement rénovée
et aménagement de haute
qualité, belles vues sur la rivière.
REF: 31040PH56