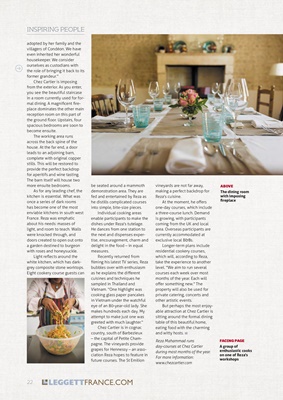 FACING PAGE
A group of
enthusiastic cooks
on one of Reza's
workshops
INSPIRING PEOPLE
ABOVE
The dining room
with imposing
fireplace
adopted by her family and the
villagers of Condéon. We have
even inherited her wonderful
housekeeper. We consider
ourselves as custodians with
the role of bringing it back to its
former grandeur."
Chez Cartier is imposing
from the exterior. As you enter,
you see the beautiful staircase
in a room currently used for formal dining.
A magnificent fireplace
dominates the other main
reception room on this part of
the ground floor. Upstairs, four
spacious bedrooms are soon to
become ensuite.
The working area runs
across the back spine of the
house. At the far end, a door
leads to an adjoining barn,
complete with original copper
stills. This will be restored to
provide the perfect backdrop
for aperitifs and wine tasting.
The barn itself will house two
more ensuite bedrooms.
As for any leading chef, the
kitchen is essential. What was
once a series of dark rooms
has become one of the most
enviable kitchens in south west
France. Reza was emphatic
about his needs: masses of
light, and room to teach. Walls
were knocked through, and
doors created to open out onto
a garden destined to burgeon
with roses and honeysuckle.
Light reflects around the
white kitchen, which has darkgrey
composite stone worktops.
Eight cookery course guests can
be seated around a mammoth
demonstration area. They are
fed and entertained by Reza as
he distills complicated courses
into simple, bite-size pieces.
Individual cooking areas
enable participants to make the
dishes under Reza's tutelage.
He dances from one station to
the next and dispenses expertise,
encouragement, charm and
delight in the food - in equal
measures.
Recently returned from
filming his latest TV series, Reza
bubbles over with enthusiasm
as he explains the different
cuisines and techniques he
sampled in Thailand and
Vietnam. "One highlight was
cooking glass paper pancakes
in Vietnam under the watchful
eye of an 80-year-old lady. She
makes hundreds each day. My
attempt to make just one was
greeted with much laughter."
Chez Cartier is in cognac
country, south of Barbezieux
- the capital of Petite Champagne.
The vineyards provide
grapes for Hennessy - an association Reza
hopes to feature in
future courses. The St Emilion
vineyards are not far away,
making a perfect backdrop for
Reza's cuisine.
At the moment, he offers
one-day courses, which include
a three-course lunch. Demand
is growing, with participants
coming from the UK and local
area. Overseas participants are
currently accommodated at
exclusive local B&Bs.
Longer-term plans include
residential cookery courses,
which will, according to Reza,
take the experience to another
level. "We aim to run several
courses each week over most
months of the year. Each will
offer something new." The
property will also be used for
private catering, concerts and
other artistic events.
But perhaps the most enjoyable attraction
at Chez Cartier is
sitting around the formal dining
table of this beautiful home,
eating food with the charming
and witty hosts.
Reza Mahammad runs
day-courses at Chez Cartier
during most months of the year.
For more information: