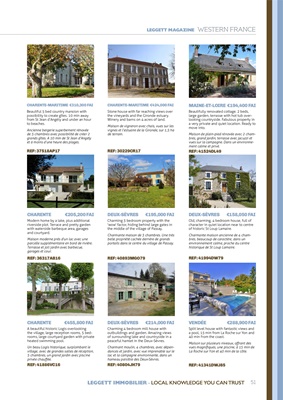 LEGGETT IMMOBILIER - LOCAL KNOWLEDGE YOU CAN TRUST 51
CHARENTE-MARITIME €310,300 FAI
Beautiful 5 bed country mansion with
possibility to create gîtes. 10 min away
from St Jean d'Angély and under an hour
to beaches.
Ancienne bergerie superbement rénovée
de 5 chambres avec possibilité de créer 2
grands gîtes. A 10 min de St Jean d'Angély
et à moins d'une heure des plages.
REF: 37518AP17
CHARENTE-MARITIME €424,000 FAI
Stone house with far reaching views over
the vineyards and the Gironde estuary.
Winery and barns on 4 acres of land.
Maison de vigneron avec chais, vues sur les
vignes et l'estuaire de la Gironde, sur 1,5 ha
de terrain.
REF: 30229CR17
MAINE-ET-LOIRE €194,400 FAI
Beautifully renovated cottage. 2 beds,
large garden, terrasse with hot tub overlooking countryside.
Fabulous property in
a very private and quiet location. Ready to
move into.
Maison de plain-pied rénovée avec 2 chambres, grand
jardin, terrasse avec jacuzzi et
vues sur la campagne. Dans un environnement calme
et privé.
REF: 41524DL49
CHARENTE €205,200 FAI
Modern home by a lake, plus additional
riverside plot. Terrace and pretty garden
with waterside barbeque area, garages
and courtyard.
Maison moderne près d'un lac avec une
parcelle supplémentaire en bord de rivière.
Terrasse et joli jardin avec barbecue,
garages et cour.
REF: 36317AB16
DEUX-SÈVRES €195,000 FAI
Charming 3 bedroom property with the
'wow' factor, hiding behind large gates in
the middle of the village of Passay.
Charmante maison de 3 chambres. Une très
belle propriété cachée derrière de grands
portails dans le centre du village de Passay.
REF: 40893MGO79
DEUX-SÈVRES €158,050 FAI
Old, charming, 4 bedroom house, full of
character in quiet location near to centre
of historic St Loup Lamaire.
Charmante maison ancienne de 4 chambres, beaucoup
de caractère, dans un
environnement calme, proche du centre
historique de St Loup Lamaire.
REF: 41994DW79
CHARENTE €455,800 FAI
A beautiful historic Logis overlooking
the village, large reception rooms, 5 bedrooms,
large courtyard garden with private
heated swimming pool.
Un beau Logis historique, surplombant le
village, avec de grandes salles de réception,
5 chambres, un grand jardin avec piscine
privée chauffée.
REF: 41886VC16
DEUX-SÈVRES €214,000 FAI
Charming 4 bedroom mill house with
outbuildings and garden. Amazing views
of surrounding lake and countryside in a
peaceful hamlet in the Deux-Sèvres.
Charmant moulin, 4 chambres, avec dépendances et jardin, avec vue imprenable sur le
lac et la campagne environnante, dans un
hameau paisible des Deux-Sèvres.
REF: 40804JH79
VENDÉE €288,900 FAI
Split level house with fantastic views and
a pool, 15 min from La Roche sur Yon and
40 min from the coast.
Maison sur plusieurs niveaux, offrant des
vues magnifiques, une piscine, à 15 min de
La Roche sur Yon et 40 min de la côte.
REF: 41341DWJ85
LEGGETT MAGAZINE WESTERN FRANCE