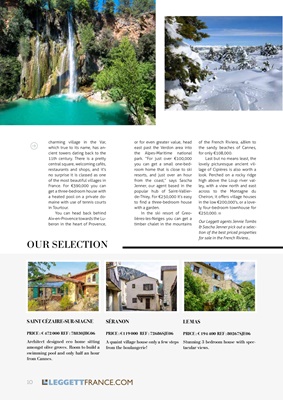 10 LEGGETTFRANCE.COM
SÉRANON
A quaint village house only a few steps
from the boulangerie!
PRICE : €119 000 REF : 72686SJE06
SAINT CÉZAIRE-SUR-SIAGNE
Architect designed eco home sitting
amongst olive groves. Room to build a
swimming pool and only half an hour
from Cannes.
PRICE : € 472 000 REF : 78830JBG06
LE MAS
Stunning 3 bedroom house with spectacular
views.
PRICE : € 194 400 REF : 80267SJE06
OUR SELECTION
of the French Riviera, 48km to
the sandy beaches of Cannes,
for only €108,000.
Last but no means least, the
lovely picturesque ancient village
of Cipières is also worth a
look. Perched on a rocky ridge
high above the Loup river valley,
with a view north and east
across to the Montagne du
Cheiron, it offers village houses
in the low €200,000's, or a lovely four-bedroom
townhouse for
€250,000.
Our Leggett agents Jennie Tombs
& Sascha Jenner pick out a selec-
tion of the best priced properties
for sale in the French Riviera...
charming village in the Var,
which true to its name, has ancient towers
dating back to the
11th century. There is a pretty
central square, welcoming cafés,
restaurants and shops, and it's
no surprise it is classed as one
of the most beautiful villages in
France. For €390,000 you can
get a three-bedroom house with
a heated pool on a private domaine with use of
tennis courts
in Tourtour.
You can head back behind
Aix-en-Provence towards the Luberon
in the heart of Provence,
or for even greater value, head
east past the Verdon area into
the Alpes-Maritime national
park. "For just over €100,000
you can get a small one-bedroom
home that is close to ski
resorts, and just over an hour
from the coast," says Sascha
Jenner, our agent based in the
popular hub of Saint-Vallierde-Thiey.
For €250,000 it's easy
to find a three-bedroom house
with a garden.
In the ski resort of Greolières-les-Neiges
you can get a
timber chalet in the mountains