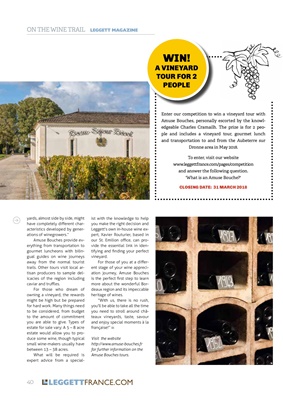 ON THE WINE TRAIL LEGGETT MAGAZINE
40 LEGGETTFRANCE.COM
yards, almost side by side, might
have completely different characteristics developed
by generations of
winegrowers."
Amuse Bouches provide everything from
transportation to
gourmet luncheons with bilingual guides on wine journeys
away from the normal tourist
trails. Other tours visit local artisan producers
to sample delicacies of
the region including
caviar and truffles.
For those who dream of
owning a vineyard, the rewards
might be high but be prepared
for hard work. Many things need
to be considered, from budget
to the amount of commitment
you are able to give. Types of
estate for sale vary: A 5 - 8 acre
estate would allow you to produce
some wine, though typical
small wine-makers usually have
between 13 - 38 acres.
What will be required is
expert advice from a specialist with the knowledge
to help
you make the right decision and
Leggett's own in-house wine expert, Xavier
Routurier, based in
our St. Emilion office, can provide the essential
link in identifying and
finding your perfect
vineyard.
For those of you at a different stage
of your wine appreciation journey,
Amuse Bouches
is the perfect first step to learn
more about the wonderful Bordeaux region
and its impeccable
heritage of wines.
"With us, there is no rush,
you'll be able to take all the time
you need to stroll around châteaux vineyards,
taste, savour
and enjoy special moments à la
française!"
Visit the website
for further information on the
Amuse Bouches tours.
Enter our competition to win a vineyard tour with
Amuse Bouches, personally escorted by the knowledgeable
Charles Cramailh. The prize is for 2 people and includes
a vineyard tour, gourmet lunch
and transportation to and from the Aubeterre sur
Dronne area in May 2018.
To enter, visit our website
www.leggettfrance.com/pages/competition
and answer the following question.
'What is an Amuse Bouche?'
CLOSING DATE: 31 MARCH 2018
WIN!
A VINEYARD
TOUR FOR 2
PEOPLE