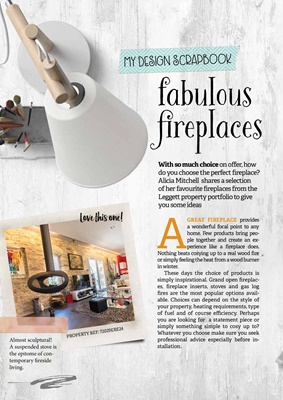 A
GREAT FIREPLACE provides
a wonderful focal point to any
home. Few products bring people together
and create an experience
like a fireplace does.
Nothing beats cosying up to a real wood fire
or simply feeling the heat from a wood burner
in winter.
These days the choice of products is
simply inspirational. Grand open fireplaces,
fireplace inserts, stoves and gas log
fires are the most popular options available.
Choices can depend on the style of
your property, heating requirements, type
of fuel and of course efficiency. Perhaps
you are looking for a statement piece or
simply something simple to cosy up to?
Whatever you choose make sure you seek
professional advice especially before installation.
fabulous
fireplaces
With so much choice on offer, how
do you choose the perfect fireplace?
Alicia Mitchell shares a selection
of her favourite fireplaces from the
Leggett property portfolio to give
you some ideas
MY DESIGN SCRAPBOOK
Almost sculptural!
A suspended stove is
the epitome of contemporary
fireside
living.
PROPERTY REF: 72029ERE24
Love this one!
i