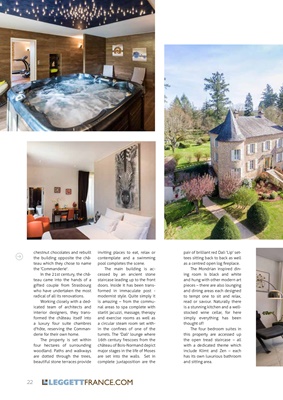 22 LEGGETTFRANCE.COM
LEGGETTFRANCE.COM
22 LEGGETTFRANCE.COM
chestnut chocolates and rebuilt
the building opposite the château which they
chose to name
the 'Commanderie'.
In the 21st century, the château came into the hands of
a
gifted couple from Strasbourg
who have undertaken the most
radical of all its renovations.
Working closely with a dedicated team of
architects and
interior designers, they transformed
the château itself into
a luxury four suite chambres
d'hôte, reserving the Commanderie for
their own home.
The property is set within
four hectares of surrounding
woodland. Paths and walkways
are dotted through the trees,
beautiful stone terraces provide
inviting places to eat, relax or
contemplate and a swimming
pool completes the scene.
The main building is accessed
by an ancient stone
staircase leading up to the front
doors. Inside it has been transformed
in immaculate post -
modernist style. Quite simply it
is amazing - from the communal areas
to spa complete with
starlit jacuzzi, massage, therapy
and exercise rooms as well as
a circular steam room set within the
confines of one of the
turrets. The 'Dali' lounge where
16th century frescoes from the
château of Bois-Normand depict
major stages in the life of Moses
are set into the walls. Set in
complete juxtaposition are the
pair of brilliant red Dali 'Lip' settees sitting back to back as well
as a centred open log fireplace.
The Mondrian inspired dining room
is black and white
and hung with other modern art
pieces - there are also lounging
and dining areas each designed
to tempt one to sit and relax,
read or savour. Naturally there
is a stunning kitchen and a wellstocked
wine cellar, for here
simply everything has been
thought of!
The four bedroom suites in
this property are accessed up
the open tread staircase - all
with a dedicated theme which
include Klimt and Zen - each
has its own luxurious bathroom
and sitting area.