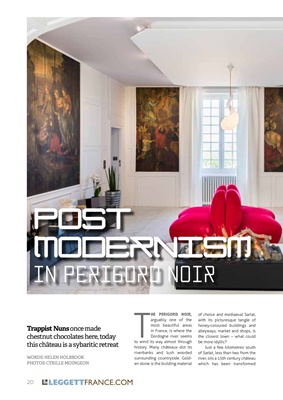 20 LEGGETTFRANCE.COM
20Post
Modernism
IN PERIGORD NOIR
Trappist Nuns once made
chestnut chocolates here, today
this château is a sybaritic retreat
WORDS: HELEN HOLBROOK
PHOTOS: CYRILLE MOINGEON
T
HE PERIGORD NOIR,
arguably one of the
most beautiful areas
in France, is where the
Dordogne river seems
to wind its way almost through
history. Many châteaux dot its
riverbanks and lush wooded
surrounding countryside. Golden stone is the building material
of choice and mediaeval Sarlat,
with its picturesque tangle of
honey-coloured buildings and
alleyways, market and shops, is
the closest town - what could
be more idyllic?
Just a few kilometres south
of Sarlat, less than two from the
river, sits a 15th century château
which has been transformed