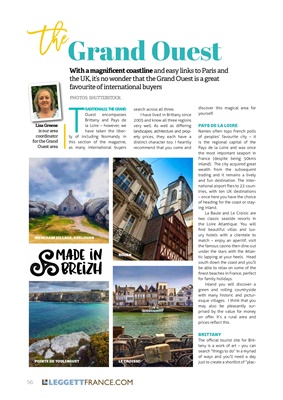 56
T
RADITIONALLY, THE GRAND
Ouest encompasses
Brittany and Pays de
la Loire - however, we
have taken the liberty of
including Normandy in
this section of the magazine,
as many international buyers
search across all three.
I have lived in Brittany since
2005 and know all three regions
very well. As well as differing
landscapes, architecture and property
prices, they each have a
distinct character too. I heartily
recommend that you come and
discover this magical area for
yourself.
PAYS DE LA LOIRE
Nantes often tops French polls
of peoples' favourite city - it
is the regional capital of the
Pays de la Loire and was once
the most important seaport in
France (despite being 50kms
inland). The city acquired great
wealth from the subsequent
trading and it remains a lively
and fun destination. The international airport
flies to 22 countries, with ten UK destinations
- once here you have the choice
of heading for the coast or staying inland.
La Baule and Le Croisic are
two classic seaside resorts in
the Loire Atlantique. You will
find beautiful villas and luxury hotels with a clientele to
match - enjoy an aperitif, visit
the famous casino then dine out
under the stars with the Atlantic lapping at your
heels. Head
south down the coast and you'll
be able to relax on some of the
finest beaches in France, perfect
for family holidays.
Inland you will discover a
green and rolling countryside
with many historic and picturesque villages.
I think that you
may also be pleasantly surprised by
the value for money
on offer. It's a rural area and
prices reflect this.
BRITTANY
The official tourist site for Brittany is a work
of art - you can
search "things to do" in a myriad
of ways and you'll need a day
just to create a shortlist of "placLisa
Greene
is our area
coordinator
for the Grand
Ouest area
LEGGETTFRANCE.COM
With a magnificent coastline and easy links to Paris and
the UK, it's no wonder that the Grand Ouest is a great
favourite of international buyers
PHOTOS: SHUTTERSTOCK
The
Grand Ouest
LE CROISIC
POINTE DE TOULINGUET
ROUEN
MENEHAM VILLAGE, KERLOUAN