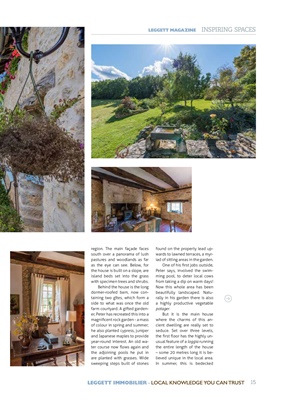 15
LEGGETT IMMOBILIER - LOCAL KNOWLEDGE YOU CAN TRUST 15
region. The main façade faces
south over a panorama of lush
pastures and woodlands as far
as the eye can see. Below, for
the house is built on a slope, are
island beds set into the grass
with specimen trees and shrubs.
Behind the house is the long
dormer-roofed barn, now containing two
gîtes, which form a
side to what was once the old
farm courtyard. A gifted gardener,
Peter has recreated this into a
magnificent rock garden - a mass
of colour in spring and summer;
he also planted cypress, juniper
and Japanese maples to provide
year-round interest. An old water course
now flows again and
the adjoining pools he put in
are planted with grasses. Wide
sweeping steps built of stones
found on the property lead upwards
to lawned terraces, a myriad of
sitting areas in the garden.
One of his first jobs outside,
Peter says, involved the swimming pool, to deter local cows
from taking a dip on warm days!
Now this whole area has been
beautifully landscaped. Naturally
in his garden there is also
a highly productive vegetable
potager.
But it is the main house
where the charms of this ancient dwelling
are really set to
seduce. Set over three levels,
the first floor has the highly unusual feature
of a loggia running
the entire length of the house
- some 20 metres long it is believed
unique in the local area.
In summer, this is bedecked
LEGGETT MAGAZINE INSPIRING SPACES