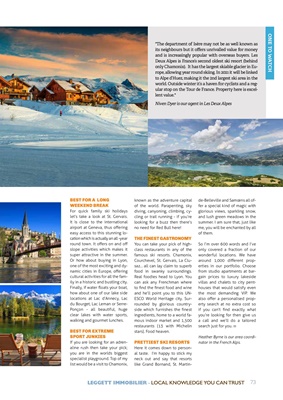 LEGGETT IMMOBILIER - LOCAL KNOWLEDGE YOU CAN TRUST 73
BEST FOR A LONG
WEEKEND BREAK
For quick family ski holidays
let's take a look at St. Gervais.
It is close to the international
airport at Geneva, thus offering
easy access to this stunning location which
is actually an all -year
round town. It offers on and off
slope activities which makes it
super attractive in the summer.
Or how about buying in Lyon,
one of the most exciting and dynamic cities
in Europe, offering
cultural activities for all the family in
a historic and bustling city.
Finally, if water floats your boat,
how about one of our lake side
locations at Lac d'Annecy, Lac
du Bourget, Lac Leman or SerrePonçon
- all beautiful, huge
clear lakes with water sports,
walking and gourmet lunches.
BEST FOR EXTREME
SPORT JUNKIES
If you are looking for an adrenaline rush then take
your pick;
you are in the worlds biggest
specialist playground. Top of my
list would be a visit to Chamonix,
known as the adventure capital
of the world. Parapenting, sky
diving, canyoning, climbing, cycling or
trail running - if you're
looking for a buzz then there's
no need for Red Bull here!
THE FINEST GASTRONOMY
You can take your pick of high-
class restaurants in any of the
famous ski resorts. Chamonix,
Courchevel, St. Gervais, La Clusaz… all can lay claim to superb
food in swanky surroundings.
Real foodies head to Lyon. You
can ask any Frenchman where
to find the finest food and wine
and he'll point you to this UNESCO
World Heritage city. Surrounded
by glorious countryside which
furnishes the finest
ingredients, home to a world famous indoor market
and 1,500
restaurants (13 with Michelin
stars). Food heaven.
PRETTIEST SKI RESORTS
Here it comes down to personal taste.
I'm happy to stick my
neck out and say that resorts
like Grand Bornand, St. Martin-
"The department of Isère may not be as well known as
its neighbours but it offers unrivalled value for money
and is increasingly popular with overseas buyers. Les
Deux Alpes is France's second oldest ski resort (behind
only Chamonix). It has the largest skiable glacier in Europe,
allowing year round skiing. In 2021 it will be linked
to Alpe d'Huez, making it the 2nd largest ski area in the
world. Outside winter it's a haven for cyclists and a regular stop
on the Tour de France. Property here is excellent
value."
Niven Dyer is our agent in Les Deux Alpes
ONE TO WATCH
de-Belleville and Samœns all offer
a special kind of magic with
glorious views, sparkling snow,
and lush green meadows in the
summer. I am sure that, just like
me, you will be enchanted by all
of them.
So I'm over 600 words and I've
only covered a fraction of our
wonderful locations. We have
around 1,000 different properties in our portfolio.
Choose
from studio apartments at bargain prices
to luxury lakeside
villas and chalets to city penthouses that would
satisfy even
the most demanding VIP. We
also offer a personalised property search
at no extra cost so
if you can't find exactly what
you're looking for then give us
a call and we'll do a tailored
search just for you.
Heather Byrne is our area coordinator in the French Alps.